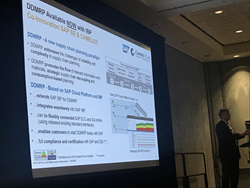 Camelot's DDMRP extension for SAP Integrated Business Planning helps companies more easily integrate the Demand-Driven MRP concept into SAP Integrated Business Planning
Media, Pennsylvania (PRWEB) August 09, 2017
Camelot Innovative Technologies Lab GmbH (Camelot ITLab) today announced the co-innovation of the worldwide first enhancement app for SAP® Integrated Business Planning, the new cloud solution for real-time supply chain planning. Camelot's DDMRP for SAP Integrated Business Planning helps customers to implement the new Supply Chain Management (SCM) concept "Demand-Driven Material Requirements Planning (DDMRP)" and thus move into the new Demand-Driven Adaptive Supply Chain Model. With DDMRP for SAP Integrated Business Planning, Camelot aims to help customers benefit from dramatically improved customer service, increased supply chain agility and significant cost reductions.
"Camelot ITLab has worked together with SAP to develop and establish cloud-based extension capabilities for SAP Integrated Business Planning leveraging SAP Cloud Platform," said Franz Hero, SVP and Head of SAP Digital SCM Development at SAP SE. "Camelot's DDMRP extension for SAP Integrated Business Planning helps companies more easily integrate the Demand-Driven MRP concept into SAP Integrated Business Planning. It is not only the first enhancement solution for SAP Integrated Business Planning, but a central milestone in our strategy to deliver an open and extendable infrastructure for our fast-growing and state-of-the-art supply chain planning platform."
"At Camelot we have observed an increasing customer demand for the new FLOW-oriented Demand-Driven Material Requirements Planning approach, and we started early to transfer this revolutionary SCM 'thoughtware' into supply chain planning software," said Dr. Josef Packowski, CEO of Camelot Consulting Group. Last year, Camelot developed the first SAP software–based DDMRP solution in SAP Supply Chain Management, which is also the first solution based on SAP software that is officially certified by the Demand Driven Institute, the global authority for Demand-Driven MRP. "With the co-innovated DDMRP enhancement for SAP Integrated Business Planning, we transfer the DDMRP concept into the new SAP Integrated Business Planning solution and thus continue to establish the Demand-Driven Supply Chain Management concepts within our mutual customer base," he explained.
DDMRP for SAP Integrated Business Planning enhances the SAP software with the functionalities of Demand-Driven Material Requirements Planning. The solution is part of Camelot's Demand-Driven LEAN Planning Suite, the only SAP-certified software solution for Demand-Driven Supply Chain Management. Clients can benefit from significantly improved customer service levels and an increased agility through supply lead time compression by up to 50%. This results typically in 40% less inventory and reduced costs.
About Camelot ITLab Inc.
Camelot Innovative Technologies Lab Inc. (Camelot ITLab) is the leading SAP consultancy for digital value chain management. With more than 20 years of experience Camelot ITLab leads clients in their digital transformation. Our capabilities range from the strategic dialogue around current challenges in the digital world to the implementation of the new, digital solutions. As part of CAMELOT Group with 1,600 employees worldwide, Camelot ITLab stands for customer orientation, innovation, highest quality and feasible end-to-end solutions. From innovations to solutions.
http://www.camelot-itlab.com/us
SAP, SAP S/4HANA and other SAP products and services mentioned herein as well as their respective logos are trademarks or registered trademarks of SAP SE (or an SAP affiliate company) in Germany and other countries. See http://www.sap.com/corporate-en/legal/copyright/index.epx for additional trademark information and notices.
All other product and service names mentioned are the trademarks of their respective companies.
SAP Forward-looking Statement
Any statements contained in this document that are not historical facts are forward-looking statements as defined in the U.S. Private Securities Litigation Reform Act of 1995. Words such as "anticipate," "believe," "estimate," "expect," "forecast," "intend," "may," "plan," "project," "predict," "should" and "will" and similar expressions as they relate to SAP are intended to identify such forward-looking statements. SAP undertakes no obligation to publicly update or revise any forward-looking statements. All forward-looking statements are subject to various risks and uncertainties that could cause actual results to differ materially from expectations The factors that could affect SAP's future financial results are discussed more fully in SAP's filings with the U.S. Securities and Exchange Commission ("SEC"), including SAP's most recent Annual Report on Form 20-F filed with the SEC. Readers are cautioned not to place undue reliance on these forward-looking statements, which speak only as of their dates.