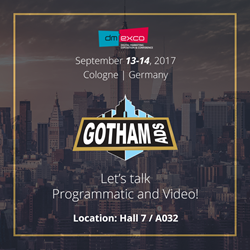 Consumers adore watching videos, and video ads are so far the most effective. For this reason, GothamAds will be proudly presenting our video-oriented solutions in Cologne
Hallandale Beach, Florida (PRWEB) August 11, 2017
During this two-day international exposition and conference event for the digital marketing industry, GothamAds will present its suite of video ad serving/ad mediation solutions and deal marketplace platform for publishers, advertisers and ad networks. The company powers end-to-end video solutions, offering a holistic platform that encompasses the entire online video management workflow, from the video creation, hosting, distribution to the launch itself.
GothamAds offers a wide range of products for programmatic partners, such as supply-side platform, demand-side platform, header bidding solutions, SDK integration, ad exchange for real-time bidding auctions or direct sales, and more. Recently, the company has been developing progressive video operating system that delivers native video ads across all screens and ad placements. At dmexco, GothamAds will present these programmatic products, showcasing the core functionality and possible custom features for company's clients.
The company helps digital advertisers to organize, host, and effectively serve ad creatives, tracking ROI through real-time analytics. When accessing Gotham's digital marketplace and a huge selection of unique traffic, media buyers can make direct deals with publishers, and privately negotiate agreements. GothamAds offers dynamic ad serving and ad mediation platform that aggregates ad tags, and helps to maximize KPI. Publishers benefit from IAB-compliant, multi screen video player and monetization tools that help to grow revenues.
"We offer high-impact video creative formats and best-in-class video advertising platform that helps you to maximize fill rate and increase ROI", says GothamAds CEO Michael Wright. "Consumers adore watching videos, and video ads are so far the most effective. For this reason, GothamAds will be proudly presenting our video-oriented solutions in Cologne."
GothamAds will occupy Booth A032 in Hall 7. More information about GothamAds exhibitor categories can be found here. dmexco will take place at the Koelnmesse (Messeplatz 1) in Cologne, Germany. Tickets are available here. For booking personal meetings, please contact GothamAds at connect(at)gothamads(dot)com.