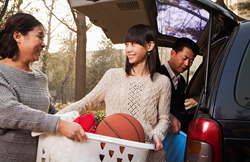 LINCOLN, R.I. (PRWEB) August 07, 2017
With summer quickly coming to a close, college students will soon pack up and move back to school. However, it can be tricky loading boxes and furniture into a vehicle when trying to make it all fit.
In fact, according to AAA, more people than ever are being injured on the roads due to insufficiently packed luggage on car roofs and in trunks. That's why Amica Insurance is sharing the following packing tips:

Put the heaviest items as far forward in the cargo area as possible. Too much weight in the back may cause issues with the rear springs.
To prevent belongings from shifting and potentially injuring passengers, pack smaller items into boxes and secure larger items with the vehicle's cargo anchors.
Don't stack belongings so high that you can't see out the back windows.
Keep essential items, such as a roadside emergency kit, easily accessible. The kit should contain first-aid materials, a fire extinguisher, flares and a flashlight.
Before leaving, make sure the cargo hasn't affected the pressure level of the tires, and check the load capacity in the owner's manual.
About Amica Insurance
Amica Mutual Insurance Co., the nation's oldest mutual insurer of automobiles, was founded in 1907. The company, based in Lincoln, Rhode Island, is a national writer of auto, home, marine and umbrella insurance. Life coverage is available through Amica Life Insurance Company, a wholly owned subsidiary. Amica employs more than 3,800 people in 44 offices across the country. For more information, visit Amica.com.
Media inquiries can be sent to MediaCenter(at)amica.com.
Twitter: Amica
Facebook: Amica Mutual Insurance Co.