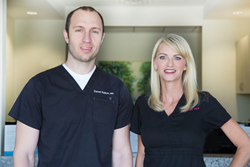 "I'm so excited to get back to work providing dermatology services to the wonderful people of Keller in our beautiful new office!" says Atkins
Dallas, Texas (PRWEB) August 08, 2017
We are pleased to announce the return of Jana Atkins, PA-C, to the North Fort Worth/Keller office of U.S. Dermatology Partners. Jana worked in Keller for many years until the birth of her fourth child. She is excited to return to practice beginning Aug. 9.
Jana graduated with honors with a Bachelor of Science degree in biology from the University of Texas at Arlington in 1997. She earned a Bachelor of Science degree in physician assistant studies from the University of North Texas Science Center at Fort Worth in 2001. She graduated valedictorian of her class, earning her the President's Scholar Award. She received her Masters of Science in physician assistant studies from the University of Nebraska Medical Center in 2003.
Jana is a member of the Society of Physician Assistants in Dermatology, the American Academy of Physician Assistants and the Texas Academy of Physician Assistants.
Jana has more than 10 years of experience as a physician assistant in dermatologic, surgical, and pediatric settings. She enjoys treating children and adults for medical, surgical and cosmetic dermatological needs. Jana lives in Southlake with her husband and four children.
"I'm so excited to get back to work providing dermatology services to the wonderful people of Keller in our beautiful new office!" says Atkins
She will work under the direction of Daniel Walker, MD, board-certified dermatologist. Dr. Walker earned his medical degree from UT Southwestern Medical Center in Dallas. He completed a residency in dermatology at University of Arkansas, serving as chief dermatology resident in his final year. Dr. Walker, an accomplished writer, has published multiple academic journals on various dermatology conditions. Dr. Walker enjoys spending time with his children, drawing, playing guitar and writing. Dr. Walker has written for a variety of news media as a food writer, columnist and a critic. He looks forward to working in the Keller office.
The North Fort Worth/Keller office opened in the current location in November 2016 and includes nine exam rooms, with four spacious procedure rooms for skin cancer surgeries as well as cosmetic procedures. The office is ideally located to care for patients in and around North Fort Worth, Alliance, Trophy Club, Roanoke, Westlake, Southlake, Watauga, Colleyville and North Richland Hills.
About U.S. Dermatology Partners
U.S. Dermatology Partners is making it easier for people to connect with a dermatologist and to gain access to the latest in dermatology care and state-of-the-art treatment for skin diseases for the entire family. Because it is the third-largest physician-owned dermatology practice in the United States, patients have access to medical, surgical and cosmetic skin treatments through its coordinated care network and benefit from the practice's depth of dermatology subspecialty thought-leaders and medical advisory board. To be the best partners to its patients, U.S. Dermatology Partners is fervently focused on providing the highest level of patient-first care. Its team therefore includes recognized national leaders in subspecialties including psoriasis and Mohs Surgery. To learn more, visit usdermatologypartners.com.