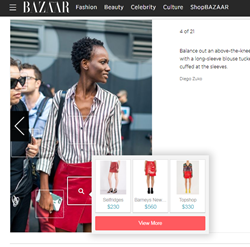 The experience makes it easier than ever to find something very specific to a customer's taste
New York, NY (PRWEB) August 09, 2017
Fashion Box, a new Chrome extension that aims to simplify the online shopping experience and help consumers skip the steps of saving clippings from their shopping inspiration, this week officially went live for all interested users and avid online shoppers.
Borne from a passion for integrating responsive technology into web browsing and perusing, Fashion Box analyzes in real-time photos that users encounter online, and finds the available items for them to purchase instantly from more than 534 shopping sites.
"Fashion Box works in the form of boxes. When a user hovers their mouse over any clothing item or accessory, a box will automatically appear and provide an option for a pop-up with shopping links," said Netanel Namdar, Founder and Owner of Fashion Box. "From that pop-up, the option of a more advanced pop-up contains additional shopping options, with filters for pricing and brands applied. The world of online shopping just got significantly smaller."
To make it possible, Fashion Box's software automatically detects the IP location of the customer, so only the relevant shopping sites appear that can ship to their specific destination. This filter removes the unnecessarily wasted time searching retailers that don't offer appropriate shipping options.
Users can also filter the pricing of the shopping results, enabling them to control options according to their budgets.
"The experience makes it easier than ever to find something very specific to a customer's taste," said Namdar. "Our mission is to revolutionize the way online shopping is conducted today. Now, everyone can save time and money in the process. Spread the word on our official software launch, and head on over to our website to learn more about Fashion Box's capabilities."
To begin browsing any image on the web for immediate shopping links, visit: http://fashionbox.online/.