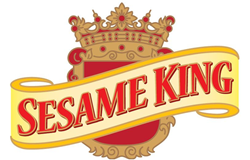 Methuen, MA (PRWEB) August 08, 2017
Sesame King, the leader in all natural pasteurized tahini paste announced today they have launched their new Sesame King Mix and Serve Hummus Kit that gives consumers the ability to make delicious homemade hummus in minutes. The kit contains a 1-15.5 oz. can of chickpeas, 1-4 oz. pouch of Sesame King tahini paste and 1-packet of their proprietary special seasoning that takes all the guess work out of making delicious hummus. The hummus is all natural, Non-GMO, gluten free, vegan approved, trans fat free, cholesterol free and Kosher Certified.
The new kit provides consumers with everything needed to prepare fresh traditional style hummus in the comfort of their own home in just minutes. The hummus is all natural with a subtle, delightful aroma and is rich in texture, fresh and absolutely delicious.
"We are very excited to be introducing our new hummus kit to retailers and consumers across the United States," said Emile Maroun of Sesame King. "Consumers and retailers are looking for safe, new, exciting and innovated healthy products and we believe that our Sesame King Hummus Kit meets and exceeds those expectations."
Sesame King also offers consumers a line of tahini pastes that come in 16 oz. plastic jars and are available in the following seven delicious flavors including Roasted, Light Roasted, Garlic, Olive Oil, Cajun, Honey and Chocolate. Each flavor is rich in proteins and vitamins, made with no additives or preservatives, peanut and tree nut free, Trans fat free, gluten free and Kosher Certified. Both the Roasted and Light Roasted Tahini pastes are Non-GMO Project verified. Sesame King tahini is the only manufacturer to pasteurize its tahini to ensure a clean, healthy and safe product for consumer usage.
Sesame King's mix and serve Hummus Kit provides consumers with a powerful nutritional food choice that packs a kaleidoscope of healthy inclusions:

Tahini is richer in protein than milk, yogurt, almonds, cashews, hazelnuts, walnuts, soya, sunflower, wheat germ and pecan nuts.
Tahini contains natural lecithin which reduces blood fat levels and provides protection from environmental pollutants such as nicotine.
Tahini provides substantial amounts of many vitamins including Vitamin E, which slows the aging of body cells and helps maintain proper focusing of the eyes.
Tahini is also one of the best sources of Vitamin T (very few foods are). Vitamin T improves memory and concentration in combination with Phosphorous also present in Tahini, providing a potent brain and nerve food.
"As a leading manufacturer of tahini, our never ending goal is to produce tahini products that taste great and provide consumers with a healthy food choice. Healthy is good. Healthy and tasty is fantastic," added Maroun.
Sesame King Tahini can be found at such fine retailers as Whole Food Markets, Market Basket, Shaw's, King's Supermarkets, Wise Markets, Tops Market, Balducci's, Spartan Nash, Safeway Eastern, Albertsons South West, Acme, Pete's Fresh Markets and Citarella Markets and at Restaurant Depots and many other fine markets and specialty health food stores or order online at http://www.sesameking.com and http://www.amazon.com.
About Us:
Founded in 1997, Sunshine International Foods, Inc. is a family owned and operated business that produces the highest quality tahini pastes made under the brand name Sesame King in the United States. Sunshine International Foods, Inc. puts great importance on food safety and providing their customers with outstanding customer service. Sunshine International Foods, Inc. produces a branded line of 100% pure Sesame King Tahini pastes that come in seven delicious flavors including Light Roast, Roasted, Olive Oil, Honey, Garlic, Cajun and Chocolate. Each Tahini flavor is all natural, rich in proteins and vitamins, no preservatives, peanut free, Trans fat free, gluten free, Kosher Certified, Non-GMO and is the only pasteurized Tahini available in today's market. Sesame King Tahini pastes come in 16 oz. plastic jars and are available nationwide for chain supermarkets, independent supermarkets, specialty food stores and club stores. Sunshine International Foods, Inc. also offers 32 oz. plastic jars, 40 lb. pails, 450 lb. drums for foodservice operators and manufacturing use. For more information about Sunshine International Foods, Inc. call 978-837-3209 or e-mail at sales(at)sunshinefood(dot)com.