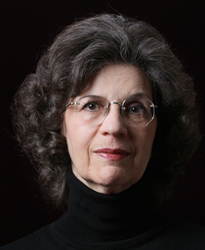 By employing the ancient chakra system as a diagnostic tool, physicians can experience better health, less burnout, more creativity and greater home/ work balance. -- Jenness Cortez Perlmutter
AVERILL PARK, NY (PRWEB) August 08, 2017
The American Meditation Institute (AMI) co-founder and internationally renowned artist Jenness Cortez Perlmutter will present a lecture on "The Ancient Chakra System as a Diagnostic Tool," during the 9th annual mind/body medicine CME conference October 24-28, 2017 at the Cranwell Resort and Spa in Lenox, Massachusetts. Entitled "The Heart and Science of Yoga" this comprehensive 30 CME training, accredited through the Albany Medical College Office of Continuing Medical Education, is designed to help prevent and relieve physician stress and burnout.
Jenness Cortez Perlmutter is the editor of "Transformation"––the journal of Yoga Science as holistic mind/body medicine. She has studied in Rishikesh, India and is a direct disciple of Swami Rama of the Himalayas––the man who, in laboratory conditions at the Menninger Institute, demonstrated that blood pressure, heart rate and the autonomic nervous system can be voluntarily controlled. These research demonstrations have been one of the major cornerstones of the mind/body movement. As an AMI faculty member, Ms. Cortez-Perlmutter teaches a wide range of Yoga Science classes including an in-depth study of the perennial psychology of the Bhagavad Gita.
According to Jenness Cortez Perlmutter, "The power to relieve and prevent burnout lies within each of us. It is simply a matter of attaining the necessary knowledge and then cultivating our determination and will. By employing the ancient chakra system as a diagnostic tool, physicians can experience better health, less burnout, more creativity and greater home/ work balance. By learning to employ their knowledge of chakra psychology (subtle emotional/mental causes of stress), physicians will be able to diagnose and treat dis-ease with greater clarity and understanding."
This "Heart and Science of Yoga" 30 CME conference is dedicated to providing quality, comprehensive and evidence-based education to physicians and other health care providers. By design, it offers a broad curriculum of Yoga Science as mind/body medicine to relieve and prevent physician burnout. In addition to Ms. Cortez Perlmutter's lecture on the "chakra system as a diagnostic tool," topics will include AMI Meditation, diaphragmatic breathing, mantra science, Yoga psychology, Food as Medicine, Neuroplasticity, Trauma and PTSD, mind function optimization, functional medicine, Epigenetics, Ayurveda, easy-gentle yoga and lymph system detoxification.
According to previous attendee Kristin Kaelber, MD, a board certified internist in Cleveland, Ohio, "The material presented in AMI's CME conference represents the future of medical education. It has provided me the practical tools to be a better physician, wife, mother and friend. Anyone burdened by the stress and burnout of practicing medicine today definitely needs this wisdom."
-30-
About the American Meditation Institute
The American Meditation Institute is a 501(c)3 non-profit educational organization devoted to the teaching and practice of Yoga Science, meditation and its allied disciplines as mind/body medicine. In its holistic approach to wellness, AMI combines the healing arts of the East with the practicality of modern Western science. The American Meditation Institute offers a wide variety of classes, retreats, and teacher training programs. AMI also publishes Transformation a bi-monthly journal of meditation as holistic mind/body medicine. Call (518) 674-8714 for a mail or email subscription.
Media Contact:
Robert Washington
60 Garner Road
Averill Park, NY 12018
Tel. (518)674-8714