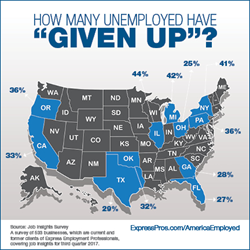 America's unemployment situation has improved dramatically from where we were just a few years ago, but there are still far too many Americans who are left out of the workforce and who have given up finding a job. - Bob Funk, CEO of Express
Oklahoma City, OK (PRWEB) August 09, 2017
Express Employment Professionals released state-level results from its Harris poll of unemployed Americans, revealing which states have more unemployed workers who have given up on finding a job.
Unemployed survey respondents were asked whether they agree with the statement, "I've completely given up on looking for a job."
Among the 11 states that were oversampled in the survey, Illinois had the highest percentage of respondents who agreed that they had "completely given up." In Illinois, 44 percent agreed, compared to 33 percent nationally. Ohio had the lowest percentage at 25 percent.
Even though many have given up, the unemployed still express a level of hopefulness. Respondents were also asked whether they agree with the statement, "I'm hopeful that I will find a job I really want in the next six months."
The unemployed in Oklahoma expressed the greatest level of hope, with 95 percent agreeing with the statement to some degree. Florida ranked last, with 74 percent expressing hopefulness.
Unemployment remains a chronic condition for many, though the average duration of unemployment varies from state to state. The unemployed in Oklahoma report being out of work for an average of 19.8 months, while the unemployed in Florida report 33.1 months. The national average is 23.5 months.
"America's unemployment situation has improved dramatically from where we were just a few years ago, but there are still far too many Americans who are left out of the workforce and who have given up finding a job," said Bob Funk, CEO of Express, and a former chairman of the Federal Reserve Bank of Kansas City. "The numbers vary from state to state, but a similar story exists in each: the unemployed, out of work for an average of two years, are torn between feelings of despair and hope."
This study was conducted online by Harris Poll on behalf of Express Employment Professionals and included 1,500 U.S. adults aged 18 or older who are unemployed but capable of working (whether or not they receive unemployment compensation benefits). Excluded are those who are currently retired, choose to stay at home, or are unable to work due to long-term disability. The survey was conducted between March 14 to Aril 6, 2017. State-level oversampling was also conducted in California, New York, Florida, Texas, Ohio, Illinois, Georgia, Michigan, Pennsylvania, Oklahoma and Oregon.
Results were weighted as needed for age by gender, education, race/ethnicity, region and household income. Propensity score weighting was also used to adjust for respondents' propensity to be online. Totals may not equal the sum of their individual components due to rounding. No estimates of theoretical sampling error can be calculated; a full methodology is available.
Click here for full survey results.
***
If you would like to arrange for an interview with Bob Funk to discuss this topic, please contact Sheena Karami, Director of Corporate Communications and PR, at (405) 717-5966.
About Robert A. Funk
Robert A. "Bob" Funk is chairman and chief executive officer of Express Employment Professionals. Headquartered in Oklahoma City, the international staffing company has more than 780 franchises in the U.S., Canada and South Africa. Under his leadership, Express has put more than 6 million people to work worldwide. Funk served as Chairman of the Conference of Chairmen of the Federal Reserve and was also the Chairman of the Federal Reserve Bank of Kansas City.
About Express Employment Professionals
Express Employment Professionals puts people to work. It generated $3.05 billion in sales and employed a record 510,000 people in 2016. Its long-term goal is to put a million people to work annually. For more information, visit ExpressPros.com.