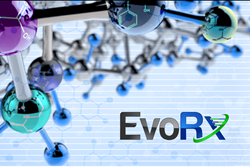 Jupiter, FL (PRWEB) August 08, 2017
The award winning series, Innovations with Ed Begley, Jr., will feature EvoRx Technologies, Inc. (EvoRx) in an upcoming episode, slated to air Nationwide, first quarter 2018.
EvoRx has an innovative technology allowing it to discover therapeutics for treatment and diagnosis of disease with high unmet medical need.
This segment of Innovations will explore EvoRx's proprietary Evo-Link™ technology, which addresses a major problem in drug discovery. Although biologist have a deep understanding of the cause of disease, most of that knowledge cannot be capitalized upon to create new drugs with traditional approaches. EvoRx has developed a technology that allows molecules to evolve the ability to act as drugs. Viewers will learn how this technology has been applied to generating a novel treatment for colon cancer.
"We are delighted to share our drug discovery technology and innovative colon cancer treatment with this show," said Stephen Fiacco, CEO of EvoRx. "Innovations with Ed Begley, Jr. is a fantastic and informative show and we are excited to be featured."
"Evo-Link's features allows EvoRx to target protein interactions previously thought of as un-druggable," said Michele Nehls, Senior Producer for the series. "This revolutionary technology is truly changing the industry."
About EvoRx
EvoRx is a privately held, early stage biotechnology company in Los Angeles, CA. Its technology allows it to discover and develop innovative peptide therapeutics for treatment and diagnosis of disease with high unmet medical need. Its proprietary Evo-LinkTM technology allows it to screen and evolve peptide libraries for in environments that mimic the physiological environment of the body. The result is uniquely structured and membrane permeable peptides that can target protein interactions previously thought of as "undruggable". EvoRx has partnered with multiple large pharmaceutical companies to use this technology in their drug discovery efforts. For more information, visit: http://www.evorxtechnologies.com.
About Innovations and DMG Productions:
Innovations, hosted by award winning actor Ed Begley, Jr., is an information-based series geared toward educating the public on the latest breakthroughs in all areas of society. Featuring practical solutions and important issues facing consumers and professionals alike, Innovations focuses on cutting-edge advancements in everything from health and wellness to global business, renewable energy, and more.
DMG Productions (responsible for creating the Innovations show) includes personnel specialized in various fields from agriculture to medicine, independent films to regional news and more. Field producers work closely with experts in the field to develop stories. This powerful force enables DMG to consistently produce commercial-free, educational programming that both viewers and networks depend on.
For more information visit: http://www.InnovationsTelevision.com or contact Michele Nehls at (866) 496-4065 or via email at info(at)InnovationsTelevision.com.