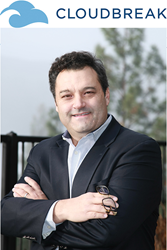 Los Angeles, CA (PRWEB) August 08, 2017
Cloudbreak Health, LLC ("Cloudbreak"), a leader in telemedicine solutions, today named health tech industry veteran, Eric Gombrich, as Executive Vice President of Partnerships. Gombrich has three decades of expertise in the health technology, informatics and biotech industries.
"Eric's thought leadership and deep experience in building strategic partnership teams will be a great addition as we expand our unified telemedicine offerings to new use cases to serve our existing and future clients better," said Jamey Edwards, co-founder and CEO of Cloudbreak Health. "Eric's mission will be to make sure our partner healthcare facilities derive the most value and ROI possible from the platform, turning their telemedicine investment into a strategic asset."
Most recently, Gombrich served as the Chief of Digital Partnerships at Providence St. Joseph Health where he established and led sales and marketing for telehealth, formerly within the Digital Innovation Group. Previously, Gombrich served as General Manager of NexJ Health, and prior to that Chief Executive Officer of EMIS Inc., as well as held several multi-national leadership roles, including at Carefx Corporation, Eclipsys Corporation and Molecular Diagnostics, Inc.
"Cloudbreak has all the essential elements to be a breakout company in healthcare through uniquely valuable solutions in telemedicine. Its mission aligns with the passion I've devoted my career towards — creating a healthcare system where consumers of care and frontline clinicians are empowered to work more collaboratively and efficiently to improve healthcare outcomes," said Gombrich.
About Cloudbreak Health, LLC
Cloudbreak Health provides more than one million minutes of telemedicine consultation each month and links to the Cloudbreak Telehealth Marketplace of thousands of providers. Performing over 75,000 encounters per month at over 700 hospitals, the Cloudbreak platform simplifies how providers care for patients, putting a full care continuum at their fingertips 24/7. Learn more at http://www.cloudbreak.us.
Cloudbreak's Martti™ platform has provided more than 26 million minutes of medical interpretation to upwards of two million patients with quick and easy communication for patients who are Limited English Proficient (LEP) or Deaf/Hard-of-Hearing via live video or telephone in more than 250 languages (including American Sign Language). Nearly 60 languages are available in live video – the largest video offering in the industry. For more information, visit http://www.martti.us.