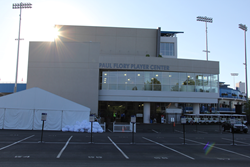 We're looking to eliminate confusion... Now we can just look on a screen and see where everybody is right away.
Mason, Ohio (PRWEB) August 11, 2017
The Western & Southern Open, one of the largest and longest-running tennis events in the country, is turning to one it's most valued vendors and partners, RACO Industries, to improve its player and media transportation system.
This year, the shuttle service that transports players and their entourage from the hotel to the tournament venue and even to and from the airport will be monitored by RACO GPS Tracking. This will improve event coordination, van scheduling, logistic dispatching, and the ability to make emergency stops & pickups.
"We've worked with RACO as the official credential provider for the event for many years," said Kathy Strahle, Director of Finance & Credentials, Western & Southern Open. "We've been very pleased with their solutions and their service so we're very comfortable choosing their GPS Tracking solution to create a smoother operation for our shuttle service."
Each van will be equipped with a GPS tracker that can be monitored on RACO's web-based platform. As the van drives back and forth between the player hotel and tournament facility, tournament officials can monitor the vehicles on a web-based platform. This gives tournament officials a real-time snapshot of where everyone is.
"We're looking to eliminate confusion," noted John McQuilkin, Transportation Chairperson for Western & Southern Open Tennis Tournament. "In the past, we would spend a lot of time calling our volunteer drivers, trying to raise them on radios, a lot of inefficient back and forth communication. Now we can just look on a screen and see where everybody is right away."
For more information on RACO Industries, please visit https://www.racoindustries.com or follow us on Twitter @racoindustries.
The Western & Southern Open will be held August 12-20, 2017 at the Lindner Family Tennis Center, 20 miles north of Cincinnati in Mason, OH. The tournament is one of the prestigious ATP Masters 1000 events on the men's tour and a Premier 5 event for the Women's Tennis Association (WTA), making it one of only five events in the world outside of the grand slams with events of that caliber occurring during the same week at the same venue. The tournament is also one of the last stops on the US Open Series before the US Open in New York. Since 1974, the tournament has contributed more than $10 million directly to its beneficiaries: Cincinnati Children's Hospital Medical Center, the Barrett Cancer Center and Tennis for City Youth.
RACO Industries, LLC is an industry-leading integrator of mobile data collection solutions, ID card printing systems, mobile content deployment, wireless data and IoT solutions. RACO's business solutions encompass most barcoding, card, and GPS application to enhance productivity and services of the mobile workforce. RACO Industries provides clients with real-time visibility to their mobile information at the point of service.