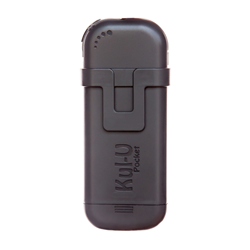 Saratoga Springs, Utah (PRWEB) August 09, 2017
As the dog days of summer drag endlessly on, many are seeking relief from the heat especially those who dress in formal wear such as a suit and tie to work. Even the simple task of walking from an air-conditioned house to an air-conditioned car can prove to be a sweaty mess. One might ask, is it possible to create an air conditioner that is small enough to carry around, one that can provide a cool breeze wherever? This is the challenge that the father and son duo, Mike and Caden, took on when creating their product, the Kul-U Pocket (Pronounced "cool you"). It is the world's first air conditioning unit designed specifically to fit in a suit coat pocket, but also fits nicely in a shirt pocket, pants pocket, blazer pocket or even clipped to a belt.
Caden and Mike paraded around with numerous different prototypes and designs in their pockets for nearly a year trying to come up with one that was just right. They wanted a device that was big enough to pack some real cooling punch yet small to wear inside a suit pocket; in other words, powerful enough to remove one from that blanket of hot air in a suit, yet quiet enough to take into a meeting.
This effort proved to be quite elusive but they finally found it and launched a successful Kickstarter campaign to fund it. In just 30 days they met their initial goal and a lofty stretch goal. This mini air conditioning unit called the Kul-U Pocket, measures 7 by 3 inches, and is 1 inch thick. Holding it in ones hand, one may think it is a TI-84 calculator, but once turned on, it is quickly realized that the device is not for adding numbers, it only lowers them - temperature that is. Here is a list of the feature they packed into this small device:

Variable Fan speed control
Adjustable air direction
Adjustable temperature control
Removable belt clip
Micro USB charging port
Soft touch case
Removable cooling unit
The secret to the Kul-U Pocket's surprising cooling capacity is its specially designed cool pack. To operate, it is removed from the unit, soaked in water, and placed in the freezer. Once the cool pack is frozen, it is re-inserted into the unit and ready to offer 2 to 6 hours of blissful cooling to its user. The air is cooled as it travels around the cool pack and circulated inside ones clothing. Unlike other personal fans which simply blow air, the Kul-U Pocket's revolutionary new design allows it to cool using very little airflow making the cooling operation very quiet. It is designed with an active cooling system capable of lowering the temperature of the case of the unit as well as air temperature exhaust from the fan by 15+ degrees.
Settling disputes about where the thermostat should be set can be a challenging task in any home or office, as clothing, body mass, and activities will vary greatly with each individual. Can one expect women wearing thin skirts to need as much AC as a guy clad in a suit and tie? It has never been so. Here's the answer: set the building to a nice, eco-friendly temperature and cool the hot guys down with the Kul-U Pocket. It keeps everyone comfortable and saves energy at the same time - everyone wins.
Kul-U pocket offers quiet, portable, and lightweight relief from the heat indoors and outdoors. To the men and women out there who will be wearing more than they want to this summer, Kul-U invites all to try their product. They are currently available on Amazon and eBay, or one can buy directly from their website at kul-u.com. They are currently offering a 20% end of summer discount and one can find the promo-code by visiting their Facebook page at Kul-U Pocket.