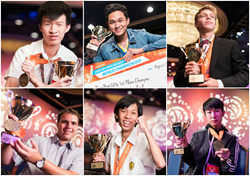 Anaheim, CA (PRWEB) August 07, 2017
The winners of the 2017 Microsoft Office Specialist World Championship have been announced by Certiport, the leading test delivery solution provider for the global workforce and academic markets.
In its 16th year, the competition attracted more than 560,000 candidates from 122 countries to demonstrate their superior skills in Microsoft Word®, Excel®, and PowerPoint®. Today culminated the most popular technology skills competition on Microsoft Office and the only one endorsed by Microsoft since its inception in 2002.
To enter the competition, students aged 13 to 22 took a qualifying Microsoft Office Specialist (MOS) certification exam to demonstrate their mastery of Microsoft Office products. Regional competitions were held worldwide and 157 student finalists competed in the final round of competition in Anaheim, California, USA from July 31 – August 2, 2017.
The 2017 Microsoft Office Specialist World Champions are:
Microsoft Word 2013:
First place, Tiberiu Danciu, Romania
Second place, Ka Hei Chao, Macao
Third place, Manh Tu Bui, Vietnam
Microsoft Word 2016:
First place, Cheng Wai Fung, Hong Kong
Second place, Ieong Chi Kei, Macao
Third place, Eta Katherine, Nigeria
Microsoft PowerPoint 2013
First place, Yip Pak Ming, Hong Kong
Second place, Daniela Pavlova, Bulgaria
Third place, Chang Wu, China
Microsoft PowerPoint 2016
First place, Pattarapong Tantikowit, Thailand
Second place, Dheya Madhani, North Carolina, USA
Third place, Sofia Morales Gil, Guatemala
Microsoft Excel 2013
First place, JiaXi Dai, China
Second place, Sam Millar, United Kingdom
Third place, Kyriakos Chatziefthymiadis, Greece
Microsoft Excel 2016
First place, John Dumoulin, Virginia, USA
Second place, Sarawut Khamset, Thailand
Third place, Jayden Cooke, New Zealand
In the concluding round, competitors participated in unique project-based tests to demonstrate their ability to create documents, spreadsheets, and presentations for the information presented in Word, Excel, and PowerPoint. Certiport and Microsoft recognized the top competitors at the MOSWC Student Awards Ceremony at the Disneyland Hotel in Anaheim, California. Each first-place winner was presented with a $7,000 cash prize, second place $3,500 and third place $1,500.
"The Microsoft Office Specialist World Championship is inspiring – not only because these students won an impressive award, but because they have gained valuable workforce skills that will benefit them throughout their academic and career pursuits," said Aaron Osmond, General Manager at Certiport. "The best part is watching the champions go home and then report back to us with all of the amazing things they are doing academically and in the workforce. Microsoft Office Specialist certification truly changes lives."
MOS certification is the only official Microsoft-recognized certification for Microsoft Office globally and serves as a powerful instrument for assessing student skills and preparing students for real-world application.
"We are proud to support the MOS World Championship and grateful to meet young people from all parts of the world who have discovered the power of Microsoft Office skills for productivity and employability," said Anneleen Vaandrager, Senior Director, Education Industry at Microsoft. "The competition itself is the experience of a lifetime but every participant, all 560,000 of them, earned MOS certification to bolster their employability opportunities."
Next year, Certiport will host the 2018 MOS World Championship in Orlando, Florida. Download high-resolution photos of the winners here and video interviews here. The event hashtag is #MOSWC.
About Certiport
Certiport, a Pearson VUE business, is the leading provider of certification exam development, delivery and program management services delivered through an expansive network of over 14,000 Certiport Authorized Testing Centers worldwide. Certiport manages a sophisticated portfolio of leading certification programs including: the official Microsoft Office Specialist certification program, the Microsoft Technology Associate certification program, the Microsoft Certified Educator program, the Adobe® Certified Associate certification program, the Autodesk Certified User and Autodesk Certified Professional certification programs, the Intuit QuickBooks Certified User certification program, the Toon Boom Certified Associate certification program, the IC3 Digital Literacy certification and the Certiport Business Fundamentals certification program. Certiport reliably delivers over three million tests each year throughout the secondary, post-secondary, workforce, and corporate technology markets in 148 countries and 26 languages worldwide. For more information, please visit http://www.certiport.com or follow Certiport on Twitter at http://www.twitter.com/certiport.
"Certiport" and "IC3" are registered trademarks of NCS Pearson, Inc. in the United States and other countries. The names of actual companies and products mentioned herein may be the trademarks of their respective owners.