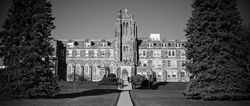 Our new positioning has evolved by listening to the marketplace and the feedback we hear from our partners on a daily basis.
Cedar Rapids, IA (PRWEB) August 08, 2017
Converge Consulting, a leading digital agency for education, has evolved its brand positioning and launched a new website that inspires innovation in education. The company's vision is to provide new and next thinking in the education space, focusing heavily on the power of digital strategy in enrollment marketing. The company's rapid growth over the past six years and evolving marketplace needs have paved the way for expanded service offerings.
The new website launch includes a video series showing the impact of Converge's partnerships with some of the nation's top universities including Tulane, Emory and Northwestern. Its brand refresh enables the company to better convey its growth story with new and next service areas including digital, content and web design, as well as data analytics.
"Our new positioning has evolved by listening to the marketplace and the feedback we hear from our partners on a daily basis," said Ann Oleson, CEO & Founder. "This website is the next iteration of our company, which allows us to expand our offerings to associations, the K-12 market, Ed Tech companies and other non-profits through the power of new and next thinking."
A new focus on Converge's conceptual capabilities–bold thinking, expert listening and digital momentum–gives clients a clear picture of the value they receive from the partnership. Converge works with institutions across the world including: business schools, engineering programs, large public universities and small private colleges.  
The company's focus on attracting the right audience segment and connecting with them via the best channels through compelling messages is a core strength. Brescia University College in London, Ontario, has partnered with Converge for the past eight years to evolve their brand including award-winning recruitment collateral, messaging and stunning advertising campaigns focused on empowering women to accomplish great feats.
"The Converge team is amazing to work with, we are constantly surprised and delighted by their level of creativity and insight," said Marianne Simm, Vice Principal of Students at Brescia University College, Canada's only all-women's university.
Converge's journey as a leading digital agency for education began six years ago. The agency has since been named to the Inc. 5000 Fastest Growing Companies and the Corridor Business Journal for two consecutive years. Founders Ann Oleson and Jay Kelly have recently fueled more growth by adding a number of new digital strategists and innovative business development consultants to their team, which now totals over 30 members.
About the Company
Converge Consulting is the digital agency for education. We develop sound digital strategy and translate it into campaigns that deliver ROI in a crowded marketplace. Visit the agency's new website for more resources and information.