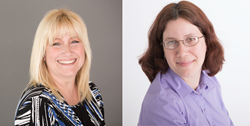 We are thrilled to promote these two dynamic leaders in our organization - Shye Gilad, ProJet Aviation CEO.
Leesburg, VA (PRWEB) August 08, 2017
ProJet Aviation, a fixed base operator (FBO) at Leesburg Executive Airport, announced two major promotions on their leadership team: Julie O'Brien to the position of General Manager, and Tina Gray as Controller. O'Brien and Gray will share the primary responsibilities for managing the daily operations of ProJet's flight support activities at Leesburg Executive, which is the second busiest General Aviation (GA) airport in the Commonwealth of Virginia. Located 35 miles from Washington DC, Leesburg Executive Airport is a designated reliever airport for Washington-Dulles International Airport.
"We are thrilled to promote these two dynamic leaders in our organization," said Shye Gilad, ProJet Aviation CEO. "Julie and Tina have complementary strengths, and display a commitment to hospitality that is a hallmark of our culture and the ProJet brand."
Julie O'Brien began her 19-year aviation career with Whirlwind Aviation and held numerous positions in scheduling, dispatch, marketing, sales, and public relations at Frederick Aviation, Encore, and Landmark Aviation before joining the ProJet team as Director of Marketing in 2008. Julie was promoted to ProJet's Director of FBO Operations in 2010, and will continue to oversee marketing activities as part of her new role as General Manager.
"I am looking forward to this upcoming year. We are coming into some fantastic opportunities for growth, and I am committed to our success," said O'Brien. "This award winning FBO team is well trained and very enthusiastic! Their level of hospitality is unmatched."
O'Brien is the co-founder of the Aviation Education & Career Expo, which has been hosted and sponsored by ProJet annually since 2008. ProJet started a scholarship program in 2009, and together with many co-sponsors will award over $200K in aviation scholarships and flight training awards at the Expo this fall.
Tina Gray has more than 17 years of aviation experience at Leesburg Executive Airport, serving in several leadership roles in account management and finance with Piedmont Hawthorne and Landmark Aviation, before joining ProJet as the Accounting Manager for FBO Operations in 2012. As controller, she will have oversight of facilities and revenue management in addition to financial accountability.
"We are all working towards the same goal. I love the client interaction aspect of my job, and I am looking forward to the next growth phase of ProJet. The addition of US Customs at Leesburg will change our landscape quite a bit. That opportunity alone should bring us a more diverse transient client list."
About ProJet Aviation
ProJet Aviation is the DC metro region's premier private aviation hospitality company, dedicated to helping people accomplish extraordinary things through the wonder of flight. ProJet provides an award winning flight support/FBO experience including plane-side arrival and departure services, fueling, and hangar lease at Leesburg Executive Airport (KJYO), the closest private jet airport to Washington DC, the Dulles Technology Corridor, and Virginia's Horse & Wine Country. Founded in 2007 as a partnership between former airline pilot entrepreneur Shye Gilad, and noted entrepreneur and philanthropist Sheila C. Johnson, Founder & CEO of Salamander Hotels and Resorts, ProJet's "aviation hospitality" mindset combines the operational integrity of the world's best airlines with the refined service of a world class resort. ProJet is the host sponsor of the annual Aviation Education & Career Expo, which provides an aviation and aerospace forum for thousands of students in the Mid-Atlantic Region, and has awarded hundreds of thousands of dollars in scholarships since its inception. ProJet's numerous accolades include recognition as one of the top FBOs in the country in the fltplan.com Pilots' Choice Awards, a Washington Business Journal Best Place to Work, and an Inc. 5000 Fastest Growing Company.