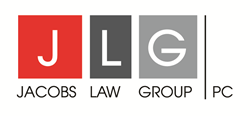 PHILADELPHIA (PRWEB) August 08, 2017
Philadelphia business law firm Jacobs Law Group is pleased to announce that Richard "Dick" McElroy and Jeffrey C. McElroy, have joined the firm. With more than 60 years combined experienced, the father and son team have been highly successful at receiving results for leading businesses in litigation.
"We welcome the McElroys to our business law practice," said Neal A. Jacobs, Managing Partner and Founder of Jacobs Law Group. "As tough Philadelphia litigators, they complement our commercial litigation practice and are well-versed in handling complex business disputes including shareholder disputes, business divorce, antitrust, and corporate fraud matters."
Dick McElroy is an experienced trial lawyer and joins the firm as Of Counsel. A Fellow in the American College of Trial Lawyers, he has represented a wide range of business entities and individuals including steel and aluminum manufacturers, concert promoters, professional sports leagues such as the NHL and NFL, food manufacturers, accountants, investment firms and individual corporate officers and directors. He is AV Rated by Martindale-Hubbell, has been listed among Pennsylvania's Super Lawyers, and is the recipient of the Edwin P. Rome Lifetime Achievement Award.
Jeff McElroy joins the firm as a commercial litigation associate. He concentrates his practice on business law and handles complex matters involving businesses throughout the United States in federal and state court actions. Jeff McElroy has successfully litigated breach of contract, breach of fiduciary duty, fraud, fraudulent conveyance, and employment law cases on behalf of corporate and individual clients. He holds a bachelor's degree from Washington & Lee University and a law degree from Temple University School of Law.
About Jacobs Law Group PC – Jacobs Law Group, PC (http://www.jacobslawpc.com) is a boutique litigation-focused law firm based in Philadelphia, with offices in Malvern, Pennsylvania and Marlton, New Jersey. With the mission to provide a fresh alternative to the traditional large, national law firms, the firm was designed to meet the critical corporate law and litigation needs of middle-market companies and entrepreneurs. Jacobs Law Group is known nationally for its business divorce practice. After expanding in 2016, the firm now offers specialized litigation support to its insurance, manufacturing and aviation clients. The firm's legal services are offered in a holistic approach, which includes practical advice and counsel built on an understanding of the specific needs of each client.
# # #