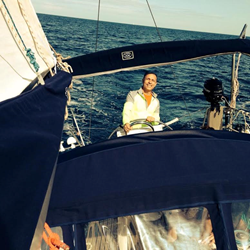 Eric Delente's progressive thinking and achievement in improving the informed consent process exemplifies the best in our industry as we all work together to improve clinical research.
Philadelphia PA and London UK (PRWEB) August 08, 2017
DrugDev President of Patient Solutions Eric Delente has been chosen for the celebrated PharmaVOICE 100 list of the most inspiring and influential people in life sciences for creating technology that transforms the informed consent process for all stakeholders, especially patients.
Eric was chosen as a top Technologist for this year's group. Read his full profile here.
Taren Grom, Co-Founder and Editor-in-Chief of PharmaVOICE, said, "We're delighted to welcome Eric Delente to this year's PharmaVOICE 100. His progressive thinking and his achievement in improving the informed consent process exemplifies the best in our industry as we all work together to improve clinical research."
DrugDev President and CEO and PharmaVOICE 100 alumnus Ibs Mahmood said, "We're thrilled to see Eric earn this well-deserved recognition. He's a brilliant technologist whose passion to educate and improve healthcare has always shattered convention. He's constantly broken new ground in an extraordinary career that spans from music to education to medicine. And he's one of the nicest guys in the business! As Eric leads our portfolio of patient solutions and works with customers to deploy the definitive eConsent solution he pioneered, it's awe-inspiring to see his vision and ideas put into practice every day by more and more sponsors and CROs who want to change the way we run clinical trials."
For over 20 years Eric has worked in the academic, medical and scientific communities, designing and developing award-winning educational portals and tools for healthcare and science. He sprang into action when he learned there was a 35% dropout rate among patients who found informed documents too confusing, and that 10-15% of audit findings are related to consent.
In 2003 Eric and his colleague Dr. Susan Brink founded SecureConsent to help sponsors, sites and patients pilot informed consent. Their eConsent mobile app was revolutionary, enabling investigators to help patients volunteer for clinical trials by replacing fear and uncertainty with knowledge and confidence.
DrugDev acquired SecureConsent in 2016 after incubating the technology in its Innovation Lab for several years. Today, as a keystone of the DrugDev Spark™ clinical operations suite, the eConsent technology is a familiar and device-agnostic app with advanced multimedia and accessibility features. eConsent ensures patients understand all aspects of the trial, while also building trust with the site, before deciding whether to enroll. This has been consistently demonstrated to increase patient satisfaction and ultimately retention as a direct result of a more educational and collaborative experience. It has become the backbone of informed consent on over 100 trials, in more than a dozen countries at organizations including hospitals, pharma companies, CROs, and research institutions. Eric and his team also contributed to the Clinical Trials Transformation Initiative at Duke University, advancing the field of eConsent for the entire industry.
Eric Delente said, "I'm so honored PharmaVOICE has welcomed me into this remarkable group of people who are dedicated to improving healthcare. I share this recognition with our customers and my DrugDev colleagues who go to work every day to improve the clinical trial experience – especially for the patients who make so much vital research possible."
About DrugDev
DrugDev, a QuintilesIMS company, helps the world do more trials through industry-wide collaboration, standardization and a beautiful technology experience. DrugDev Spark™, the unified clinical operations suite, is comprised of proven solutions used by 85 sponsors and CROs on nearly 2,000 clinical trials to transform the quality and efficiency of clinical trials from startup through closeout. DrugDev Spark is powered by the DrugDev Golden Number, the award-winning universal identifier for global site facilities and investigators used by TransCelerate and the Investigator Databank. Learn why 9 of the top 10 sponsors and 4 of the top 5 CROs trust DrugDev by scheduling a demo of DrugDev Spark at drugdev.com.