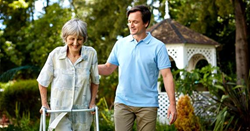 DALLAS (PRWEB) August 08, 2017
"Falls are the leading cause of death among seniors. In fact, 1 in 3 people over 65 will experience a fall. One in 4 of these will be serious enough to require hospitalization," says Ernie Ianace, President of Sensosafe LLC. "We created SenSOS® to help keep seniors safe and retain their freedom and independence."
"When you fall, SenSOS® automatically calls and texts your pre-programmed emergency contacts. No more fumbling for the SOS button. This watch takes care of it for you," says Ianace. "Plus, it also works as a 'panic' button so the wearer can trigger alerts if they feel sick or in danger. There is nothing else like it in the marketplace."
Though they realize its importance, many seniors don't want the stigma of hanging a pendant around their neck; it's an admission of infirmity. And if it's not worn, it's worthless.
"That's why we designed SenSOS® with the look and feel of smart watch." says Ianace." "It's the first fully automatic fall detection device that monitors heart rate, respiration rate, calories burned and step count, while providing continuous fall detection. It's smaller, lighter, sleeker and more stylish, and fully programmable for medication reminders, fitness goals and calendar. Anyone would be proud to wear one."
SenSOS® quickly sold out of its initial shipment. We are now taking orders for the second shipment, with delivery scheduled for September. Put SenSOS® to work and protect your loved ones today. Visit us at https://www.sensoswatch.com/shop.
xxx
Media Contact:
Natalie Marciniak
Marketing Coordinator
941.301.9628
Natalie(at)sensogram(dot)com
About Sensosafe LLC
Sensosafe LLC is a company that builds and sells health and wellness-related wearable devices. Through the use of unique vitals monitoring technology, Sensosafe helps people confidently and safely live independent, active and healthy lives.
Sensosafe LLC is headquartered in Plano, TX and is run by President Ernie Ianace.