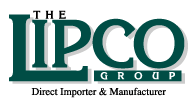 The Lipco Group, a provider of wholesale souvenirs and custom screen printing since 1964, recently launched an ecommerce website to showcase its inventory of more than 11,000 products.
Branson, Mo. (PRWEB) August 08, 2017
The Lipco Group, a southwest Missouri-based gift shop supplier of wholesale souvenirs, recently launched an extensive ecommerce site that houses an inventory of over 11,000 products. Designed by digital agency Mostly Serious, the new site sets new standards of accessibility and online purchasing for the wholesale gifts industry.
The Lipco Group's reimagined site, lipco.biz, provides the company's longtime buyers of wholesale gifts with a quicker, more seamless purchasing option and is expected to bring in a new generation of customers who prefer ecommerce to more traditional purchasing methods, such as placing orders over the phone.
"While our customers could technically place orders from our previous site, it was missing a lot of the features and browsing options we have now; not to mention it was overdue for a general update," said Lipco Operations Manager Kevin Hampton. He continued, "Not only does it now display the data in our personal inventory system accurately, but the design and navigation is great as well. We're enjoying it and we think our customers certainly will in the years to come."
About the Custom Crafted Site
Lipco's new site features thousands of wholesale gift products, from wildlife figurines to customizable glassware to western toys. Site visitors have the option to filter Lipco's many products by more than a dozen categories as well as browse pre-made designs for custom screen printing orders. Lipco customers accustomed to purchasing through one of the company's four catalogs—Lipman Gifts, Sojourn Souvenirs, Outlook Designs, and Legends—can search exclusively by catalog as well. In addition, visitors can easily view sales, clearance, and featured items.
"We'll always have customers who prefer talking to one of our personnel that they've known for years when placing orders, but having our up-to-date inventory available with so many options to search and filter is a huge benefit for our customer base as a whole," said Hampton.
Mostly Serious, a Springfield, Mo.-based digital agency, custom designed and engineered the new site for the nationally known gift shop supplier and took special care to ensure the company's enterprise resource planning (ERP) system was fully integrated with the site's backend for accurate, real time product data and updates.
"Crafting and implementing a design that catered to Lipco's impressive product inventory was a challenge we enjoyed taking on," said Jarad Johnson, president of Mostly Serious. "Lipco was a fantastic partner to work with and their dedication to quality customer service truly shines throughout the new site."
Lipco will continue to partner with Mostly Serious in the coming months as the agency constructs additional interactive features for the expansive site.
About The Lipco Group
The Lipco Group, formerly named Lipman Gifts, was established in 1964 in Crandon, Wi. In 2008 the Wisconsin operation was transferred to its current location in Southwest Missouri, where it offers centralized order processing and exceptional customer service. Lipco offers a wide variety of wholesale souvenirs and gift items in four divisions: Lipman Gifts, Sojourn Souvenirs, Outlook Designs, and Legends. To learn more about Lipco, visit http://www.lipco.biz or call 800-634-7547.