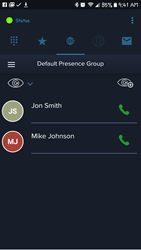 "Continuing development of the best-in-class communication solutions to help our partners grow their businesses is what drives White Label," said Thomas Joseph, CEO of White Label Communications.
Exton, PA (PRWEB) August 11, 2017
White Label Communications recently launched "NimbusPhone," a smartphone application designed to meet the needs of the rapidly growing mobile workforce. This industry-leading solution, which is available for Apple and Android devices, just got even better with the introduction of two new features; SMS and real time presence.
On-the-go professionals can now send and receive text messages using their existing office telephone numbers and extensions. This enables users to maintain their personal privacy while also allowing them to communicate with others in the most popular communication media, SMS.
NimbusPhone also now contains real time presence built directly into the application so no matter where you are, you can check the phone status of any user in the company. By utilizing the newest and best technologies, NimbusPhone updates presence in real time without the user having to refresh their screen. This feature is unique in the industry.
These new features are a complement to the already rich capabilities of the NimbusPhone which enables users to take their business anywhere by accessing and managing cloud business phone systems from their personal phones and tablets. This enhanced portability means a user can access a company directory page from a personal device, and display a business number as the Caller ID. They can view, forward, and return messages with a tap, while keeping their business and personal voicemails separated.
"These new features on the mobile app elevate our product well beyond the competition in the industry," said Thomas Joseph, CEO of White Label Communications. "I get excited about all of our feature releases. But real time presence, given how much I am on the road, is one that directly impacts the efficiency of my work day as I am sure it will for our Partners and their customers. Today's professionals don't just want connectivity when they're away from the office, they want a complete communication system. They need to be able to bring with them all of the tools and capabilities they'd have in the office and more, and that's what we're giving them."
About White Label Communications: White Label Communications is a private label communications provider specializing in Voice over IP, Hosted PBX and SIP Trunking services nationwide.