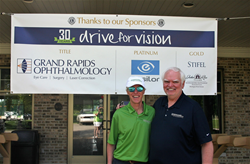 It was great to see our community come together to support worthy causes
GRAND RAPIDS, Mich. (PRWEB) August 11, 2017
Grand Rapids Ophthalmology (GRO) is pleased to announce the 30th Annual Drive for Vision Charity Golf Outing raised over $35,000 to provide vision care in the local community.
The event was held on June 19 at Quail Ridge Golf Club with 112 golfers, nearly 40 corporate sponsors, 30 volunteers, and more than 25 donated raffle prizes. One hundred percent of the funds raised were donated to support the work of the Association for the Blind & Visually Impaired and the Grand Rapids Lions Club Vision Clinic at Cherry Health.
"There were countless individuals who made this year's outing a success," said Bill Hughson, Chief Executive Officer of GRO. "We are thankful to all our volunteers, donors, and participants who generously gave their time, talents, and resources. It was great to see our community come together to support worthy causes and enjoy the event."
To date, The Grand Rapids Ophthalmology Drive for Vision has raised more than $600,000 for charity. It is held on the third Monday in June and includes lunch, 18 holes of golf, contests, dinner, and prizes. For more information, visit: http://www.driveforvision.com.
About Grand Rapids Ophthalmology (GRO)
Founded in 1982, Grand Rapids Ophthalmology is the largest fully-integrated eye care medical group in West Michigan. It offers a full suite of eye care services from routine eye exams, contact lenses and glasses, to the most advanced medical and surgical treatments such as LASIK, cataract, cornea, retina, glaucoma, oculoplastics, pediatric, and both cosmetic and reconstructive eyelid surgery. GRO employs the largest number of eye care specialists and professionals in the region: 11 ophthalmologists, 19 optometrists, 40 certified opticians, and 300 support staff in 12 locations throughout West Michigan. For more information, visit: http://www.seeitclear.com.