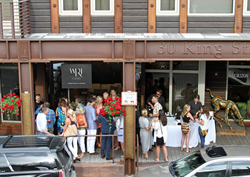 Our interiors find inspiration in the natural world and our dramatic Teton landscape while bringing in stand-out, bespoke and antique pieces from Europe, Asia and across the U.S.
Jackson Hole, Wyoming (PRWEB) August 08, 2017
WRJ Design in Jackson Hole, Wyoming, is known for bringing its spectacular Teton mountain setting indoors with sophisticated-yet-comfortable contemporary interior designs, but the team is also known for sourcing the best of textiles and home furnishings from around the world. In July, the firm hosted two events – an Italian-inspired summer kickoff party and a trunk show featuring the artistry of village women weavers of Laos – that brought elements of those disparate countries home to share with the Jackson community.
As a welcome party for summer in the mountain resort town, WRJ Design principals Rush Jenkins and Klaus Baer celebrated a recent Italian trip with a "Bringing Italy Home" event at their downtown Jackson showroom. The WRJ Showroom is known for carrying such top Italian brands as Poltrona Frau, Carlos Moretti, Cassina, and Molteni & C.
The WRJ team's frequent overseas travel includes exploring centuries-old creative traditions, meeting artisanal craftsmen and discovering one-of-a-kind pieces, as well as shopping current trends and drawing inspiration from culture and architecture. For the Italian open house party, guests sipped on traditional Italian Aperol Spritzes and sampled tasty bites from a charcuterie table while the WRJ team previewed fresh discoveries from Italian vendors.
"Traveling and experiencing the best of design the world has to offer is key to our business. Our interiors find inspiration in the natural world and our dramatic Teton landscape while bringing in stand-out, bespoke and antique pieces from Europe, Asia and across the U.S.to add depth, texture and an element of surprise to our clients' homes," says Jenkins. "With our Bringing Italy Home party and the Lao trunk show this summer, we wanted to celebrate some special finds and provide a fun way to share pieces curated from other countries and cultures with our Jackson Hole community."
Later in the month, the firm hosted a garden party trunk show showcasing the women master weavers of Laos. Featuring collections from mission-driven social businesses Ock Pop Tok and Passa Paa, WRJ Design introduced colorful, hand-loomed heritage textiles and the village weavers who create them to friends and clients. Proceeds from the event benefited the organizations, which work to elevate the profile of Lao textiles and artisans, increase economic opportunities for artisans and facilitate creative and educational collaboration in Laos and worldwide. Long known for its contributions to Jackson Hole's nonprofit arts and culture organizations, WRJ Design saw the Ock Pop Tok and Passa Paa trunk show as a unique opportunity to broaden that reach.
"WRJ has always championed craftsmanship – whether it be leather stitching, woodworking or textiles – and we are proud to partner with a company that is working to revive this craft," says Lily Lanahan, showroom director for WRJ Design. "More importantly, however, Ock Pop Tok is providing hundreds of women with the opportunity to create a sustainable livelihood outside of the opium trade, which has plagued rural areas of Laos without alternative sources of income."
About WRJ Design:
Headquartered in Jackson, Wyoming, WRJ Design imparts the special serenity of its local Teton landscape to interior designs in Jackson Hole and across the country. Begun out of a passion for great design by Rush Jenkins and Klaus Baer, WRJ creates experiences and environments through its designs that provide timeless reflections of homeowners and their collections. Winner of the 2016 Home of the Year from Mountain Living and honored as top U.S. mountain designer by Rhapsody magazine, WRJ Design also creates the blog Hunt X Gather, named one of the Top 100 Interior Design Blogs on the web. For more information visit http://www.wrjdesign.com.
Media Contact: Amy Stark, Word PR + Marketing, amy(at)wordprmarketing(dot)com, 307.734.5335