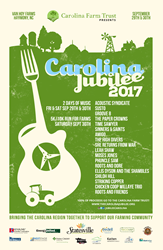 Harmony, NC (PRWEB) August 09, 2017
The Carolina Jubilee is a two-day music festival in Harmony, North Carolina at VanHoy Farms. The festival will be held on September 29th & 30th. The festival features local and national music acts, celebrity chefs including Executive Chef Clark Barlowe from Heirloom Restaurant, Carolina breweries, wineries and distilleries.
This is a family friendly event with kid's activities provided by Discovery Place Kids and the option to camp on-site at VanHoy Farms. There is an a 5k and 10k the morning of September 30th.
Tickets to one day of the festival are $35. Both days are $55. Both days and camping is $65. Children under 12 are free. Parking will be $10/car and cannot be paid in advance. Proceeds from the event benefit the Carolina Farm Trust.
About Carolina Farm Trust:
Carolina Farm Trust is a non-profit organization that assists farmers in the Carolina with the the resources they need to produce nutritious, quality food. They work to improve the financial and environmental sustainability of farming communities throughout the Carolinas. The Carolina Farm Trust offers farmers help with purchasing equipment, leasing or purchasing land, and in reaching customers through creative marketing campaigns.
About Carolina Jubilee:
The Carolina Jubilee is an annual musical event with the mission of buying farm land and putting it into a protective trust to lease back to new and existing farmers. We also want to provide a venue to all Carolina microbreweries, wineries, and farm related vendors to showcase their products and educate the community.
Our mission is have an impact on the Agriculture community in the Carolinas in a significant way. We want to work with the entrepreneur farmer in new and existing ventures to provide land access so they can utilize their capital for infrastructure, equipment, and products/services to become a profitable sustainable farming enterprise. We will work with local nonprofits to assist in specific projects that have an immediate impact in their regions.