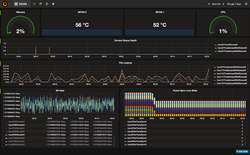 Logan, UT (PRWEB) August 07, 2017
AMERGINT announces inSIGHT, a problem-solving tool for engineers and operations. Working in conjunction with your ground system equipment, inSIGHT uses data analytics to create a composite picture of satellite links, showing how the data moves through modems, networks, and control centers.
Getting at the root cause of lost satellite contacts or lost data is greatly aided by inSIGHT.
AMERGINT's satTRAC Modem customers can now use inSIGHT to isolate and correct issues with satellite telemetry and commanding links. With the coming constellations of lower cost satellites, ground operations and engineers will be dealing with an increased number of anomalies and likely more vexing ones at that.
inSIGHT solves the crux of troubleshooting and analysis—collecting real time data over long periods, having it be fully searchable, and providing the visualization to extract useful information.
Stop by Booth 117 at the Small Satellite Conference to see the power of having inSIGHT.
AMERGINT Technologies, Inc. is an employee-owned company delivering signal, protocol and data processing software applications for satellite ground infrastructure, satellite test, launch operations, test range infrastructure, and large scale data acquisition.
AMERGINT Technologies, Inc.
INNOVATIVE ▪ ADVANTAGE
http://www.amergint.com