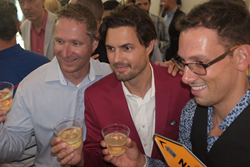 We were able to take an entirely new approach to home technology design. - Matt Emmi, Founder
New York, NY (PRWEB) August 08, 2017
OneButton, a New York based technology firm, is excited to announce and to celebrate the 10 year anniversary of its formation as a company. OneButton specializes in high-end residential and commercial design and installation of audio-visual, home theater, motorized lighting and shading, and home automation control systems.
COMPANY HISTORY
Founded in Boulder, Colorado in 2007 by Matthew Emmi, Michael Izatt, and Dave Nugent, OneButton began as a service-based firm, consulting clients on the latest technology and installing televisions and speakers.
After cultivating a client base throughout the Boulder area in the residential market, OneButton became the preferred technology provider for Chipotle Mexican Grill restaurant audio systems. In 2011 OneButton realized the opportunity to take on unique NYC projects and work alongside prestigious architect, Annabelle Selldorf.
After moving business operations to New York in 2011, OneButton has assembled a strong portfolio of projects working with several AD100 top architecture and design studios. With a headquarters in Brooklyn, OneButton also shares a showroom on 5th Avenue in Manhattan with Ernest, a collective of Belgian lighting design and interiors firms. Today, OneButton is both a design and build organization with an in-house team of architecture, lighting, and installation specialists. OneButton has been fortunate to become a Diamond Dealer with Sony and a Platinum Level partner with Lutron Electronics.
"Our partners, manufacturers like Lutron, played a big part. We've worked with them from the very beginning. It's been a really important relationship. We're now top tier Dealers of Lutron, Sony, and Sonos." - Matt Emmi, Founder
More info on Ernest and Lutron:
Ernest: 255 Fifth Avenue, 6th Floor, New York, NY 10016; ernestny.com
Lutron New York Experience Showroom: 973 Third Avenue, New York, NY 10022; lutron.com
EARLY BEGINNINGS
Matthew Emmi and Michael Izatt are alumni of Westminster College in Salt Lake City, where the two met. Emmi is a graduate of the Physics department, and Izatt of the Fine Art department. With a collective background in physics, mathematics, photography and art, the two formed a unique perspective on design and aesthetics when founding their business, setting them apart from competitors in the industry.
"[Michael] was looking into design elements that no one in the industry had explored yet… It's what really made what we do resonate, and one of the things that makes us successful in working with clients and architects was Michael's attention to detail. We were able to take an entierly new approach to home technology design." - Matt Emmi, Founder
10-YEAR ANNIVERSARY
OneButton marked its ten-year anniversary with a cocktail party attended by close friends and family, staff, clients, and professional colleagues. The reception was hosted at Project Farmhouse, a venue designed by architecture firm, ORE Design + Technologies, for GrowNYC, New York City's leader in sustainability resources. Project Farmhouse was furnished with audio video systems designed and installed by OneButton in partnership with ORE Design.
More info on ORE and Project Farmhouse:
ORE Design + Technology: 588 Court St, Brooklyn, NY 11231; ore-design.com
Project Farmhouse: 76 E. 13th Street, New York, NY 10003; projectfarmhouse.org
EXPANSION TO LOS ANGELES
OneButton's Founders proudly shared an exclusive announcement saved for the night of the party: OneButton is expanding into the Los Angeles market. With several projects in negotiation and a lineup of planned special events, OneButton is charging into the California home automation and design industry.
"We have decided that this is the next step for us to bring what we do to a whole new audience." - Michael Izatt, Founder
For updates from OneButton, please visit onebtn.com or OneButton's showroom at 255 Fifth Ave. in NYC.