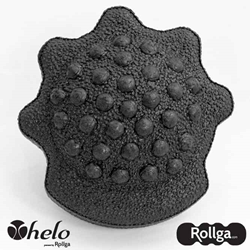 Saint Cloud, MN (PRWEB) August 07, 2017
Rollga, the creator of the market's first cross-directional foam roller, is expanding their collection to include the helo; a 3-in-1 massage ball. The helo is an easy to carry self-care tool ideal for targeting trigger points and neuro-fascial stimulation. Rollga continues to gain steam in the competitive myofascial and fascial health industry through innovative recovery tools. "Following the launch of the Rollga brand, we listened to our customers on what they look for in a recovery tool," expressed Tim Schmidt, co-owner at Rollga, "the helo takes the trigger point targeting of the Rollga Roller in an easy to carry self-care tool that users can easily take on the go."
The helo will be available for distribution October 1st, 2017 online as well as in select retail locations. The helo retails between $19.99 and $24.99 and will include a user guide available through the free Rollga app. "We are in the process of testing the helo with our current customer base to ensure that it not only meets, but exceeds the desires of Rollga fans," shared Schmidt.
The helo uses neuro activators on one side for relieving stress and unlocking tension with a round, trigger point locator on the opposite side. Upon finding a sore spot or tense muscle, simply apply pressure for 15-30 seconds, repeating until muscle release occurs. "Through market research we found that a lot of our fans were still using a lacrosse ball for targeting trigger points. We took the premise of a lacrosse ball, but with a more recovery friendly application," states Schmidt.
Rollga launched the Rollga Roller, back in February of 2016. Rollga has since established its brand across the United States, in addition to 14 foreign countries spanning the globe. The helo will only accelerate the Rollga mission to provide movement to the world as a portable, effective and light-weight option for Rollga users.