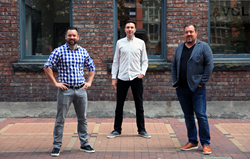 Vancouver, BC (PRWEB) August 09, 2017
Digital agency 6S Marketing has acquired social media agency Motive Communications. Motive's founder, Mitchell Fawcett, joins the 6S Marketing team as VP Partnerships & Social Strategy. With this acquisition, 6S will now offer an advanced suite of social media services, rounding out a comprehensive digital marketing offering. Motive's full client roster will be transitioned over to 6S. Financial terms of the deal were not disclosed publicly.
The deal marks the start of a significant expansion plan in 6S Marketing's social media division across its Vancouver, Toronto, and New York offices. Under Fawcett's leadership, the division will now deliver an extensive scope of services including strategy development, content marketing, influencer marketing, community management, paid media, and training, as well as a full range of creative production services.
Sheng Li Digital, the agency's Chinese-language marketing division, also plans to grow their social media services under the new leadership. WeChat and Weibo, China's two most popular social media networks, are influential and nuanced.
The agency recently hired Carolina Horna as a social media strategist to support the division's increased demand. Additional hiring plans are in place for the anticipated new business.
"We're investing in an essential evolution of our services," said Chris Breikss, 6S co-founder and CEO. "Social media and content-centric marketing are core components of a successful digital strategy. This unlocks an incredible opportunity to leverage Motive's resources and capabilities to ensure 6S remains at the forefront of the industry."
Motive Communications, headquartered in Vancouver, BC, offers social media services to clients in a wide array of industries including tourism, hospitality, fashion, beauty, health, and education. The agency operates with a team of contractors based locally, as well as in Toronto, New York, and Seattle.
About 6S Marketing
6S Marketing is a leading digital agency in New York, Vancouver, and Toronto that transforms businesses for the digital age. For over 17 years, the direct response firm has helped clients revolutionize their businesses online. 6S focuses on emergent tactics such as marketing automation, social media and content strategy, online media buying, programmatic advertising, and multi-lingual campaigns. The independent agency has built a roster of top tier clients including Mountain Equipment Co-op, Pirelli Tires, Cirque du Soleil, Expedia Cruiseshipcenters, Herschel Supply Co, Bulletproof Coffee, Canada Games Council, KLM Airlines and Air France, and more.
For more information visit: http://www.6Smarketing.com.
Media Contact
Vickie Hsieh
Marketing Manager
6S Marketing
Phone: 416-639-0388
Email: vickie(at)6smarketing.com