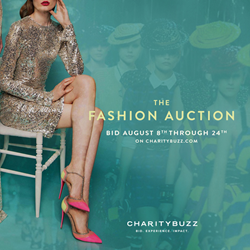 Kindness is always fashionable.
New York, NY (PRWEB) August 08, 2017
Charitybuzz is changing online fundraising by design with the introduction of their first ever curated Fashion Auction, part of this year's successful Charitybuzz Curates program. As New York Fashion Week pitches its tents, Charitybuzz is showcasing their fall line, featuring bidding opportunities on specially curated experiences and one-of-a-kind luxury items—all to benefit charity. The Charitybuzz Fashion Auction runs August 8-24 at Charitybuzz.com/Fashion.
Bidding is now open on one-of-a-kind opportunities like:
● Meet Heidi Klum at the Season Finale of Project Runway during NYFW to benefit the Television Academy Foundation
● Meet Christian Siriano with seats to his ready-to-wear show to benefit Delivering Good
● A private cocktail party—for 25—with Jason Wu at his NYC Studio to support the Dramatists Guild Fund
● Sit down to lunch for 4 with designer Isaac Mizrahi in NYC to benefit the Animal Rescue Fund of the Hamptons
● Tour the VOGUE offices and legendary fashion closet in support of the Girl Be Heard Institute
● Meet Kate Spade CCO, Deborah Lloyd, with tickets to the Kate Spade NYFW show to benefit Fashion Fights Cancer
● Join fashion journalist Jo Squillo at the catwalks of Milan Fashion Week, secure a 1-month internship with Swinger International in Bussolengo, Italy, or enjoy lunch with Ilaria Venturini Fendi at her Carmina Campus headquarters in Rome all to benefit The Wishwall Foundation
● Assist Kelly Cutrone for a day during this year's NYFW in support of PETA
● Tour Zac Posen's NYC Atelier and attend the ZAC look book photoshoot to benefit the Tribeca Film Institute
● Tour the Glossier showroom and enjoy lunch with CEO Emily Weiss to benefit Vineyard Arts Project
● Sit down to lunch with legendary designer Nicole Miller to benefit Gabrielle's Angel Foundation for Cancer Research
● Meet designer Borris Powell in his Chicago showroom in support of Telluride AIDS Benefit
● Celebrate with a private party for 20 at Reese Witherspoon's Draper James in Nashville, TN in support of the Conservancy for the Parthenon and Centennial Park
● Meet Mara Hoffman with a tour of her NYC studio to benefit The Gathering for Justice
Some of the guilt-free luxury accessories now up for auction include:
● One of only 300 1979 White Cadillac Sevilles designed by Gucci to benefit the Malaika Foundation
● An iconic Cartier 18K yellow gold panther link necklace to benefit American Friends of Soroka
● A Pirates of the Caribbean-inspired vintage leather jacket hand embellished by Rocky Barnes in support of Heal the Bay
● A custom-made Atelier Savas Leather Jacket & meeting with designer Savannah Yarborough to benefit Nashville's Musicians Corner
The chance to attend all of this season's best shows and presentations are also up for charitable auction including tickets to presentations by Rosie Assoulin, A Detacher, Naeem Khan, Tanya Taylor, and Nina Tiara to support Fashion Fights Cancer, Shahida Parides in support of The Wishwall Foundation, and Tracy Reese to benefit the Public Relations Society of America Foundation, among others. Additional fashion show experiences will be added throughout the auction.
The Fashion Auction is the fourth in a new series of specially curated auctions hosted by Charitybuzz to help nonprofits raise even more money for worthy causes all year long. The remaining 2017 schedule includes Charitybuzz Curates: Hollywood - October 3–19, and Charitybuzz Curates: Entrepreneur - November 1–16.
This year's first three curated auctions, Charitybuzz Curates: Music, Charitybuzz Curates: Golf, and Charitybuzz Curates: Broadway have raised in total more than $1.2M for nonprofit partners.
About Charitybuzz
Charitybuzz raises funds for nonprofits around the globe through online auctions with the world's most recognizable celebrities and brands. Featuring access to acclaimed actors and musicians, business and political leaders, sports stars, luxury travel, couture fashion, rare memorabilia, and more, Charitybuzz brings its online community of bidders exclusive opportunities to live their dreams and make a difference. Since launching, Charitybuzz has raised more than $200 million for charity. Its roster of celebrity supporters includes President Clinton, Sir Paul McCartney, Tim Cook, Mick Jagger, Warren Buffet, Robert Downey Jr., Taylor Swift, Ralph Lauren, Mayor Mike Bloomberg, Barbra Streisand, Howard Stern, Chevy Chase, Billy Joel, HBO, Victoria's Secret, Justin Bieber, Lady Gaga, John Varvatos, David Yurman, Bruce Springsteen, Hugh Jackman, and Beyoncé.
Charitybuzz is a member of Charity Network, which also includes Chideo, a charity video network, and charity online sweepstakes platform, Prizeo. To learn more, visit charitybuzz.com.
facebook.com/charitybuzz
twitter.com/charitybuzz
About Charity Network
Charity Network, named one of Fast Company's 2017 Most Innovative Companies, harnesses the power of celebrity, technology, and media to raise awareness and funds for some of the world's toughest challenges. With a mission to help charities transition from analog to digital, Charity Network has raised hundreds of millions of dollars for causes across the globe. Launched in 2016 by entrepreneur Todd Wagner, Charity Network is the parent company to three top digital fundraising platforms: Charitybuzz, Prizeo and Chideo. Each platform is a leader in its own field—Charitybuzz in online charity auctions, Prizeo in online sweepstakes and experiences, and Chideo in cause and entertainment content—and together they reach a broad and diverse group of donors from millennials to baby boomers. Through a network of syndicated partners including Sinclair Broadcast Group, Tribune Company, "The Ellen DeGeneres Show," Twitter, Delta Airlines, and more, Charity Network can amplify a cause message to reach more than 80 percent of U.S. TV households and more than 100 million unique visitors each month. In addition, the company's CN Solutions, created from the acquisition of LA based Global Philanthropy Group in 2017, develops and implements comprehensive philanthropic strategies to maximize the impact of the cause work of celebrities, charities and brands through research, strategy, partnerships and advocacy work. To learn more, please visit charitynetwork.com.