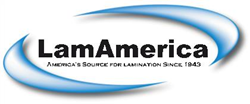 New York, NY (PRWEB) August 08, 2017
Idesco Safety Co., LLC, a national manufacturer and distributor of laminated safety tags, lockout/tagout materials, indoor and outdoor signage, and laminating pouches and equipment, today announced that, effective immediately, all sales and production of the Laminall vinyl counter card division will operate under the auspices of LamAmerica, a new division of Idesco Safety Co., LLC.
LamAmerica will set the standard in point of purchase vinyl displays with Laminall's unique line of printed counter cards, tent cards, logo plaques, specialty branded point of purchase displays, commercial signage and presentations of all sizes and types. With an experienced and dedicated customer service & production team in place, the company is positioned to serve and exceed the expectations of its growing customer base. The upcoming launch of the new LamAmerica website will be a major hub portal for point of purchase displays, lamination materials, supplies and service, counter cards, and presentations of all types.
"Aladdin Finishing built a strong foundation with its Laminall division and now we look forward to taking the company to the next level by branching out as LamAmerica, which will allow us to possess additional production and marketing resources," states Jack Klebanow, President of LamAmerica and its parent company, Idesco Safety Co, LLC. "We are excited about what the future holds and how our new & longstanding customers will benefit from improved customer service and ramped up production teams who will perpetuate Laminall's distinguished history as the point of purchase display, counter card and presentation experts."
"We are confident LamAmerica will offer Laminall customers expanded opportunities to benefit from a growing array of products and services, in addition to the unique glass-like counter cards which Laminall has offered for decades," states Hank Ruggiero, President of Aladdin Finishing Inc.
For further information on the LamAmerica product line, email info(at)LamAmerica(dot)com or call toll free 844-302-9806.
About LamAmerica
LamAmerica is the new brand name for America's leading laminator of unique, visually exciting, cost-effective display solutions. For nearly 75 years, LamAmerica and Laminall have provided brand advertisers and magazine publishers a line of specialty laminated counter cards, tent cards, table top displays, flip charts, wall displays, danglers, shelf talkers, "Take-1" literature displays, event signs, blow ups, magnets, wood plaques and awards, and visual presentations of all kinds.
Our commitment is simple: to offer the finest possible quality products; friendly, responsive and trustworthy customer service; and cost-effective pricing. Any size. Any quantity. And on time!
Company Contacts:
Hank Ruggiero, President, Laminall
Jack Klebanow, President, LamAmerica
LamAmerica
A division of Idesco Safety Co., LLC
31 South Street, Unit 1W, Mt. Vernon, NY 10550
Toll Free: 844-302-9806, Fax: 844-724-2090