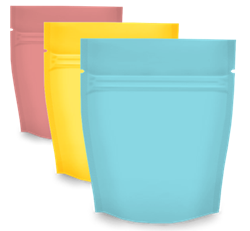 We strive to become a trusted partner of all of our clients, ultimately helping them grow to heights they may have never imagined. -Apurva Batra, Founder & CEO at FlexiblePouches.com
Houston, Texas (PRWEB) August 08, 2017
FlexiblePouches.com, an industry leader in the flexible packaging space, is proud to announce the addition of an e-commerce portal featuring wholesale reclosable stand up pouches, flat pouches or vacuum seal bags, and child resistant packaging. All packaging products are constructed out of high barrier specialty films laminated in a sandwich-like structure, engineered to prevent moisture, oxygen, and odor ingress. The company also custom manufactures flexible pouches including printing the client's artwork using rotogravure presses. Gravure printing is the most sophisticated printing technique available to flexible packaging products like stand up barrier bags, resulting in graphics where colors look particularly rich and vibrant on plastic film and kraft paper substrates.
Stand Up Pouches are the fastest growing segment of the global flexible packaging market, projected to reach a market cap of about $33.4 Billion by 2020. This high-stakes playing field has historically meant a competitive disadvantage for many newer brands that can't afford to custom run 50,000 or 100,000 units of packaging for a singular design or SKU.
For FlexiblePouches.com, clients have ranged in size from international corporations to mom-and-pops like food startups. Despite the wide range, founder and CEO Apurva Batra emphasizes the importance his company gives to the smaller brands. "Custom printed flexible packaging has historically been out of reach for the masses due to unreasonably high setup costs and MOQs that simply don't make sense for startups and small businesses," says Batra. He adds, "Packaging is arguably the most crucial yet most overlooked aspect of new product design, and poor packaging is considered the reason for why nearly 95% of all new products fail within their first year of launch. At FlexiblePouches.com, we want to remove as many barriers as possible so that all brand owners—regardless of size—have the opportunity to effectively convey their message." Currently, his company offers the lowest minimum runs in the industry for a fully customized flexible packaging product – starting at just 5,000 units per SKU.
With the addition of wholesale pouches available for purchase online, FlexiblePouches.com's reach for the smaller brands has gone a step further. The company now stocks plain pouches in bulk quantities for customers who need an immediate and affordable packaging solution. Pouches are available in various sizes, finishes, and materials like aluminum foil and nylon—offering ultra-high barrier properties and extreme resistance to tear and puncture. Bag styles available include the extremely popular resealable stand up pouches, flat vacuum storage bags or three side seal pouches, as well as ASTM D3475-compliant child resistant bags and marijuana packaging for storing cannabis, pharmaceuticals, and other products harmful for children. Unlike other distributors who batch most products in cases of 1,000 or more, FlexiblePouches.com wholesales almost all products in cases of 500 or less – showing the industry yet again their commitment to serving small and large brand owners alike.
Inventory is centrally located at the company's warehouses in Houston, Texas. The strategic location coupled with same day shipping (offered at no additional charge for most orders) allows FlexiblePouches.com to quickly and affordably reach customers coast to coast spanning both the United States and Canada.
Batra says he doesn't want brand owners to think of FlexiblePouches.com as simply another packaging supplier, but rather as a partner in their own business. His company cites a number of cases where a client starts out ordering the minimum quantity, but then experiences a spike in sales – often due to a surprise order from a big name retailer. As exciting as this situation is for the brand owner, it can cause panic because of hard deadlines that translate into an immediate need for packaging volumes several fold greater than the first order. "That's where we shine," says Batra, adding, "Whether it's 5,000 units or 1,000,000 units, our job is to make sure that our clients have their packaging ready to go when it's needed. We strive to become a trusted partner of all of our clients, ultimately helping them grow to heights they may have never imagined."
About FlexiblePouches.com:
FlexiblePouches.com, a division of APBA Global, Inc., is a premiere manufacturer of flexible packaging products that helps brands tap into their potential through innovative, sustainable, and cost effective packaging. They specialize in wholesale as well as custom manufacturing of stand up pouches, flat pouches or three side seal bags, vacuum seal bags, coffee bags, child resistant packaging, and printed roll stock, serving a variety of markets across the consumer packaged goods (CPGs) industry including retail food & beverage, pet food, cannabis, pharmaceuticals, and cosmetics & hygiene.
Website: https://www.flexiblepouches.com
Upload Your Artwork for a Free Quote!
Online Store: https://store.flexiblepouches.com
Same Day Shipping Offered at No Extra Cost!
To get in touch, please email: info(at)flexiblepouches(dot)com