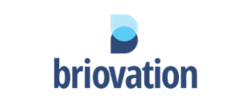 Radical improvement of global health is the opportunity of our generation. To meet this challenge, we needed to establish a brand big enough to address everything our growing team aspires to achieve.
NASHVILLE, TN (PRWEB) August 09, 2017
Co-founders Vic Gatto and Marcus Whitney announced today that the parent company of Jumpstart Foundry and Health:Further has raised a new round of capital, brought on a board of directors and senior management team and taken on a new name, Briovation (Brio for short).
Gatto, Briovation's CEO, explained the need for the upgrade, "We've built a new kind of innovation company. It serves several market segments through a family of products and brands, all focused on the future of health. Radical improvement of global health is the opportunity of our generation. To meet this challenge, we needed to establish a brand big enough to address everything our growing team aspires to achieve."
Health, worldwide, has been addressed by a $10 trillion mega-industry of outdated infrastructure: health systems, insurance, public health, biotech, pharma, food, etc. This infrastructure was created to address the health challenges facing the world 100 years ago: disease, trauma and organ failure. Thankfully, scientific discovery, brilliant doctors and nurses, and advanced technology have been able to largely solve these huge health challenges. However, the healthcare mega-industry has not evolved to address the challenges society faces today and for next 100 years. These challenges include chronic disease, obesity and sustained behavior change.
Some of the best people in the world have dedicated their lives to the cause of health for all as practitioners, advocates, and operators. However, greed has emerged to play a critical part in creating this sub-optimal, outdated, change resistant mega-industry. Brio seeks to address this problem today.
Whitney, Briovation's President, said, "Brio was formed to catalyze a revolution in health through innovation. We do this through launching and supporting ventures that challenge the systemic flaws in our health ecosystems. Today, Brio has five business units and 43 companies in our investment portfolio."
The name Briovation emerged from the combination of two words:
1. Brio: liveliness, high-energy, strength, vigor
2. Ovation: a sustained and enthusiastic show of appreciation from an audience
Brio closed a round of capital to strengthen the business and finance the addition of four new senior executives. Chris Taylor, a former 30-year HCA executive, led the investment and will be joining Brio as a member of the Board of Directors and Senior Partner.
Taylor said, "I'm very appreciative of my time with HCA and the extensive healthcare industry experience I gained while being a part of such a great company. Joining Brio will allow me to give back and share that experience with new innovative companies and to connect them to healthcare industry leaders. I look forward to collaborating with providers across the care continuum, payers, suppliers and professional service organizations to help solve important problems facing our industry."
Brio also hired three senior leaders from diverse backgrounds to form their first senior management team:

Dave Vreeland has joined as Managing Director of Jumpstart Capital. Vreeland brings a deep background in healthcare IT as a co-founder of Cumberland Consulting Group.
Dr. Mario Ramirez, MD has joined as Chief Medical Development Officer. Ramirez is a practicing emergency medicine physician as well as a former White House Fellow at the U.S. Department of Health and Human Services.
Brent Campbell has joined as Chief Financial Officer. Campbell has an extensive background in finance and accounting in the retail industry; most recently he served as President of Marathon Global, a sales and services company aiding companies in doing business with Walmart and Sam's Club.
Brio will establish offices across the US where the necessary raw materials for innovation exist, but a catalyst is needed for success. Expanding from its headquarters in Nashville, Brio also announced two new offices will open in 2017: Bentonville, AR and Chicago, IL.
Brio has created multiple market-facing brands to catalyze different types of innovation:
Jumpstart Capital, Brio's newest business unit led by Vreeland, has successfully led follow on rounds for two Jumpstart Foundry portfolio companies, Sightbox and Reemo. Jumpstart Capital is now raising its first fund, a $30M growth fund dedicated to successful companies emerging from Jumpstart Foundry's seed fund.
More information is available at http://www.briovation.com