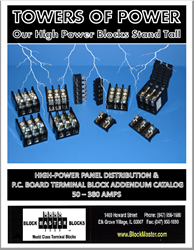 BlockMaster announces the availability of their new 12-page catalog, detailing their new lines of HP and OTB Series High Power Terminal Blocks.
Elk Grove Village, IL (PRWEB) August 07, 2017
Each of the new HP and OTB High Power Terminal Block Series is rated 600 Volts, with Amperage ranging from 115 to 380. The new HP Series High Power Terminal Blocks can also be used for lighter power applications, and therefore have extended utility as a "one size fits all" product line.
The new HP Series are offered in 115, 175, 255 and 380 Amp versions, each rated for 600V, which is detailed in the new catalog. These new terminal Blocks are ideally suited to transition larger wire gauge, high power mains to smaller gauge lower power branch circuits. They are ideally suited for use with the following applications:

Power Supplies
Standby Generators
Motor Controls
Industrial Controls
Chillers
Switch Gear
HVAC equipment
Solar & Wind Power
Pump Control Panels
Lighting Panels
CNC Machines
Other Industrial & Commercial Applications
The high-power HP Series and OTB series terminal blocks are available with a wide variety of terminations, with options including screws, studs and screw clamps. The OTB Series provides an option for PCB applications. Their operating temperature ranges from -25° C to +90° C. Withstanding Voltage is AC 2,500 V. All HP and OTB Series High Power Terminal Blocks comply with UL and CSA Standards, as well as RoHS.
For more product information, as well as price and delivery, visit http://www.blockmaster.com or call BlockMaster at 847-956-1680. BlockMaster's new Towers of Power Catalog of High Power Terminal Blocks is also available on this website.
About BlockMaster Electronics, Inc.
BlockMaster Electronics has provided innovative interconnect and terminal block solutions to electrical and electronic OEMs since 1994. The company has low-cost, high-quality manufacturing capabilities and can provide reliable products from stock.
A distinct competitive advantage that BlockMaster offers its customers includes the ability to make modifications in-house to its terminal blocks based on customer requirements. BlockMaster's Value-added Center provides the ability to fabricate, modify and print legends on our blocks at our Illinois facility for quick turnaround.
BlockMaster Electronics manufactures terminal blocks from 1 to 400 amps, including PCB styles up to 130 amps. The company offers over 9,500 P/Ns including PCB, Feed-through and Power Distribution types. BlockMaster's Value-added Center can also provide quick turn around on prototypes.