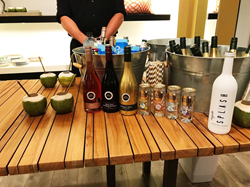 New York, NY (PRWEB) August 09, 2017
Tickle Water, an innovative, premium sparkling water company, initially created specifically for kids, has expanded its market to target adults and increase market share in a multi-billion dollar industry. Tickle Water is a surprise must-have mixer for artisanal cocktails and mixed drinks and a preferred choice for adults seeking a healthy, flavorful sparkling water option. This year, the company has seen an organic evolution of the brand's adoption by millennials and adults, leading to an increased distribution footprint both in wine and spirits stores as well as employee dining cafes.
Tickle Water is now available in Total Wine' s 106 locations in the mixer aisle and Crown Wine & Spirits' 13 Florida locations. In addition, Tickle Water is now being served in employee café coolers in 4 major executive offices and banks in New York City. Tickle Water has experienced a notable increase in distribution across the US in 2017, including the following distributors and authorized retail chains:
RECENT NEW Distribution

KeHE - Lehigh Valley, PA Distribution Center
6 distribution centers with UNFI – Howell NJ, Sarasota, FL, Hudson Valley, NY, Chesterfield, NH, Richburg, VA and Dayville, CT
Additional DSD distributors - Cavallaro Foods, NY, Champion Vending, NY, Bozzutos, NY, and McClain's FL
RECENTLY Authorized Retail Chains

TOPS Markets
Food City
Total Wine
King Kullen
Since its inception in early 2016, Tickle Water has disrupted the flavored sparkling water segment by offering a healthy and enjoyable sipping option specifically for children that quite literally "tickles" their taste buds. Tickle Water's Founder and CEO, Heather McDowell, wanted to get her son, Jayger, more interested in drinking water rather than sugar-laden juice boxes and sodas. Tickle Water is a naturally flavored sparkling water free of preservatives, GMOs, gluten, sodium, sugar, calories and artificial sweeteners. Additionally, all products are certified OU Kosher. The current lineup of all-natural flavors: Green Apple, Watermelon, Grape, and Natural Sparkling Water are changing the beverage landscape with parents and children alike.
"This year, we are excited about adding new flavors to our product line to appeal to adults. As a busy and health-conscious mom, my first goal was to create a trusted, healthy water brand for kids. But I must say, it's very exciting to also appeal to adults looking for the perfect clean-label drink when they are on the go or a refreshing, zero calorie mixer for a skinny after work cocktail", said Heather McDowell.
Tickle Water is available for a suggested retail price of $1.29 to $1.49 per 8oz. can. The product can be purchased nationwide through Amazon.com and Jet.com. Additionally, Tickle Water can be found in over 500 stores in the North East, including Kings, Stew Leonard's, Fairway, Zabar's, Westside Market, Best Market, DeCicco & Sons, and Key Foods; and in Florida, Tunie's, Earth Origins Market, Mother Earth Natrual Foods, Akins Natural Foods, and Nutrition S'mart.
Tickle Water will be an exhibitor at this year's Natural products Expo East September 14 – 16 in Baltimore, MD. Visitors can stop by booth #8020 to sample a new exciting flavor that is being launched at the Expo.
For additional information, please visit http://www.drinkticklewater.com.
About Tickle Water
Tickle Water is a premium sparkling water company dedicated to providing honest and clean hydration. Tickle Water is the first sparkling water in the market created specifically for children, yet enjoyed by all ages, complete with delicious flavors and a recyclable transparent PET can making for a perfect beverage for any occasion. Every can of Tickle Water is simply made with premium sparkling water and natural flavors without artificial ingredients, sugar, or preservatives. For more information, please visit http://www.drinkticklewater.com.