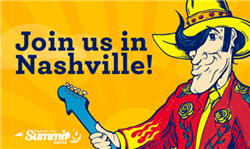 Oxnard, California (PRWEB) August 09, 2017
The Dynamics Communities User Group Summit is the ultimate Microsoft Dynamics NAV and Dynamics D365/AX learning and networking event of the year. This year's event will be held at the Gaylord Opryland Resort in Nashville, Tennessee starting October 10th and running through October 13th.
On Thursday, October 12th, Western Computer will be hosting a Dynamics user panel that will highlight real-world implementation experiences, including roadblocks and how they were resolved. The session titled "It's All About Your Implementation Experience" will be led by Western Computer's Director of Client Services, Tony Castellano, and held in the Ryman Studio PQR room at the Gaylord Opryland Resort starting at 9:15 am Central Time.
"The right resources and knowledge can significantly change your implementation experience. In the end, it comes down to your partner relationship and how happy your executive team is," states Katherine Turner-Lawrence, VP of Sales and Marketing at Western Computer. "This can't miss session highlights real-world experiences to prepare you for the good, bad, and not-so ugly of ERP implementations to prepare you for what's ahead whether you are considering a new implementation or an upgrade."
In addition to the Partner Showcase, Western Computer's experienced consultants will be in attendance to answer questions, demo solutions, and meet with customers. Western Computer will be exhibiting at booth #565 in the Summit expo hall and will be participating in several breakout sessions throughout the event.
Western Computer, a Microsoft Gold Certified ERP Partner, has been providing ERP, CRM, supply chain management and business intelligence solutions for three decades. Western Computer has helped hundreds of companies, from midsize to some of the world's largest, in selecting, implementing and reaching their business and technology objectives.
About Western Computer
For 30 years, Western Computer has designed and implemented business solutions for a wide array of industries. Over 160 resources across North America provide deep knowledge that is unmatched for Distribution, Manufacturing, Rentals and many more. Western Computer has also been ranked among the top 15 on Bob Scott's Insights Top 100 VARs for the 6th consecutive year. To learn more, visit http://www.westerncomputer.com or call (805) 581-5020. Connect with us on Twitter, LinkedIn, and Facebook.
Contact
Katherine Turner-Lawrence
Vice President of Sales & Marketing
805-581-5020