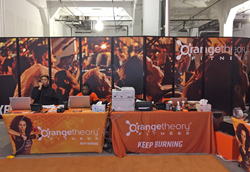 Versare's custom-printed partitions provide a way for Orangetheory fitness centers to engage clientele during seasonal promotions.
Minneapolis, MN (PRWEB) August 08, 2017
Versare Solutions LLC, a manufacturer and retailer of portable partitions and room dividers, often provides customized products to its clients. Whether it be advertising for an event, a school, or a retail business, Versare offers an array of custom-printed partition walls and dividers. Orangetheory, a national fitness chain, has teamed up with Versare to outfit many of its franchises with custom-printed versions of Versare's Room Divider 360 for seasonal promotions.
Versare recently teamed up with Orangetheory's Midtown Manhattan location for pre-opening membership signups. Franchisee James Wang chose a design that he could bring out for occasions such as health fairs and corporate on-sites. Wang eventually recommended Versare products to other franchise owners, allowing each location to create their own personalized partition. Wherever the franchise owners place the custom Orangetheory dividers, as backdrops at events or in front of construction areas during grand openings or expansions, they can promote their brand in an attention-getting way. The bright colors and branding ensures messages are accurately relayed to clientele.
Orangetheory chose the Room Divider 360 because it is sturdy, portable, and easy to set up or put away. The Room Divider 360, Versare's top selling partition, is unique because of its 360-degree rotating hinges, which allow it to be formed into a variety of shapes. Customers can choose from a variety of colors and materials, or provide their own image or logo to create the perfect divider for them.
About Versare:
Versare Solutions, Inc. is a Minneapolis-based manufacturer and retailer of portable room dividers, privacy screens, partitions, barricades, and other portable products. Versare handles the manufacturing and shipping of all products directly from their MN headquarters, with most products being built in the USA. Co-founders Robert Jantschek & Jeff Ryan initially created the company to offer a more lightweight, durable, and sturdy room divider than what had previously been found on the market. Their selection of products has grown over the years to include a wide array of portable barricades, configurable office cubicle partitions, economical fabric dividers, and outdoor wicker privacy screens.