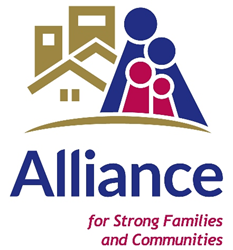 Washington, D.C. (PRWEB) August 08, 2017
The Alliance for Strong Families and Communities has added two new board members, Alexandra (Alex) Cawthorne and Daniel E. Dawes, Esq. The Alliance is a national strategic action network of nonprofit social sector organizations that provide critical services to millions of people and collectively are committed to a vision of a healthy and equitable society.
Cawthorne is program director for human services at the National Governors Association (NGA) Center for Best Practices. She directs the Center's portfolio of projects relating to human services policy and systems, addressing such topics as family economic security, child welfare, two-generation policy, juvenile justice, integrated data systems, and improving human service delivery systems.
Dawes, a health care attorney, is the executive director of government relations, health policy, and external affairs at Morehouse School of Medicine in Atlanta. He has written several publications on health care reform and health equity, the most recent titled "150 Years of Obamacare."
"Daniel and Alex bring impressive expertise and experience to our board, which will help the Alliance as we continue to position our network for excellence, distinction, and influence. This is a time of exciting and formidable change in our field and sector and Alex and Daniel are great additions to our governance at this time," said Susan Dreyfus, Alliance president and CEO.
Cawthorne has more than a decade of experience in a variety of domestic public policy issues and has served on advisory boards for two national nonprofits. Prior to joining NGA, Cawthorne was a research associate at the Center for American Progress, worked for the U.S. Senate Committee on banking, housing, and urban affairs and for the Congressional Hunger Center, serving as a Bill Emerson National Hunger Fellow.
Dawes lectures on health law and policy while serving simultaneously on several boards, commissions, and councils focused on health equity and health care reform. He is an advisor to policymakers as well as think tanks, foundations, corporations, and nonprofit organizations. In addition, he has received several national awards and recognition for his role in helping to advance health equity nationwide and is the co-founder of the national Health Equity Leadership & Exchange Network (HELEN).
Dawes and Cawthorne join 12 other leaders on the board of directors:

Ron Manderschied, president of Northwestern Settlement, Chicago
Dennis Richardson, president and CEO of Hillside Family of Agencies, Rochester, New York
Mary Hollie, president and CEO of Glenwood Academy, Chicago
Molly Greenman, president and CEO of The Family Partnership, Minneapolis
Father Steven Boes, national executive director of Father Flanagan's Boys' Home, Boys Town, Nebraska
Richard Cohen, president and CEO of Public Health Management Corporation, Philadelphia
Donald W. Layden Jr., partner at Quarles & Brady, Milwaukee
Milton J. Little Jr., president of United Way of Greater Atlanta
Stephen Mack, executive performance officer on the Alliance Board of Directors, Inverness, Ilinois
Debora Matthews, president and CEO of The Children's Center, Detroit
Annette Rodriguez, president and CEO of The Children's Shelter, San Antonio
Tracy Wareing Evans, executive director of the American Public Human Services Association, Washington, D.C.
About the Alliance: The Alliance for Strong Families and Communities is a strategic action network of thousands of committed social sector leaders who through their excellence, distinction and influence are working to achieve a healthy and equitable society. We aggregate the very best sector knowledge and serve as an incubator for learning and innovation to generate new solutions to the toughest problems. We accelerate change through dynamic leadership development and collective actions to ensure policies and systems provide equal access and opportunity for all people in our nation to reach their fullest potential through improvements in health and well-being, educational success, economic opportunity, and safety and security. Go to alliance1.org for more information.