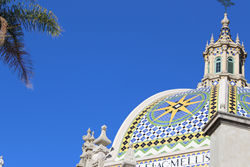 San Diego, CA (PRWEB) August 08, 2017
The best deal in Balboa Park just got even better—purchase a Balboa Park Annual Explorer Pass and get FREE admission to Maker Faire San Diego, the Park's annual celebration of innovative technology, arts, and the Do-It-Yourself culture, happening October 7-8, 2017. Purchase the Balboa Park Explorer Family Pass, receive admission to the entire weekend of Maker Faire San Diego, up to a $168 value, and unlimited general admission to 16 Balboa Park museums for 365 days.
Now in its third year, Maker Faire San Diego is a unique, family-friendly event for innovative, creative people who like to tinker and love to create, and also for those curious minds who want to see what new and cutting-edge things are just around the corner.
The Explorer Pass provides passholders the opportunity to explore the rich cultural and artistic offerings of Balboa Park in an easy and affordable way, and is the best money-saving option for enjoying all the Park has to offer, including the more than 250 local and regional makers displaying their creations at Maker Faire San Diego—mostly inside participating museums. Talk with makers, get hands-on, and visit the exhibitions on display. It'll be a fun-filled weekend!
PRESS MATERIALS: Photos and logos
WEBSITE: http://sandiego.makerfaire.com
FACEBOOK: https://www.facebook.com/SDMakerFaire
TWITTER: https://twitter.com/SDMakerFaire
INSTAGRAM: https://instagram.com/sdmakerfaire/
ABOUT MAKER FAIRE
Maker Faire is an award winning, family friendly event celebrating technology, education, science, arts, crafts, engineering, food, sustainability, and more. Maker Faire has become part of pop-culture, a place for experiential marketing, debuting new technologies and inventions, and celebrating geekdom. Maker Media produces two annual flagship Maker Faires, partners with museums to produce Featured Maker Faires, and works with communities to license Mini Maker Faires around the world.
ABOUT THE BALBOA PARK ANNUAL EXPLORER PASS
The Balboa Park Explorer Pass provides general admission to 16 museums in Balboa Park, with discounts for families, seniors and students, and no blackout dates, starting at just $99. In addition to exclusive Explorer-only events monthly, Annual Explorers also receive tailored, bi-weekly newsletters, up-to-date special announcements and personal recommendations and insights directly from Park staff. Annual, One-Day or Multi-Day Explorer Passes are available for purchase online at Explorer.BalboaPark.org. The Explorer Pass directly funds participating museums in Balboa Park. Visit us at Facebook.com/ExploreBalboaPark, Instagram.com/ExploreBalboaPark, Twitter.com/ExploreBP.
ABOUT BALBOA PARK CULTURAL PARTNERSHIP
Balboa Park Cultural Partnership is a nonprofit organization through which 30 arts, science and cultural institutions in Balboa Park collaborate to achieve shared goals. By helping these groups achieve greater organizational efficiency, innovation and excellence, it seeks to contribute to the vitality and sustainability of Balboa Park. For more information visit http://www.bpcp.org.