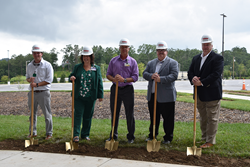 MURPHY, N.C. (PRWEB) August 08, 2017
Harrah's Cherokee Valley River Casino, construction/design teams, and guests celebrated the official groundbreaking of the new bowling and entertainment center addition on Aug. 7 in Murphy, North Carolina.
The 38,000-square-foot Ultrastar Mutli-tainment Center at Harrah's Cherokee Valley River Casino will bring a bowling center with 16 lanes and a 2,200-square-foot arcade to the Murphy area for family-friendly activities. On the opposite side, the addition will also house the casino's first full-service restaurant, with a nearly 260-seat capacity. Two bars will be included in the new construction, one to service the bowling center, the other near the restaurant to service both waiting restaurant guests and gaming participants. There will also be 16 new Tesla charging stations added to the parking lot for guest use.
Robins & Morton of Birmingham, Alabama, will serve as the general contractor and Brunswick Bowling Products of Muskegon, Michigan, will serve as the construction manager. Paradigm Design, Inc., of Grand Rapids, Michigan, will provide design and architecture services for the project. The facility is slated for completion in summer 2018 and will be managed by Ultrastar Multi-tainment Centers of Phoenix, Arizona.
About Robins & Morton
Founded in 1946, Robins & Morton is a privately held construction firm that consistently ranks among the 100 largest U.S. contractors in Engineering News-Record Magazine. The company has also been named one of the best mid-sized companies to work for in America because of its worker-friendly and family-friendly practices. Robins & Morton is based in Birmingham, Alabama, with offices in Dallas, Texas; Huntsville, Alabama; Orlando and Miami Florida; Nashville, Tennessee; Charlotte, North Carolina. For more information, visit http://www.robinsmorton.com
About Paradigm Design
Paradigm Design is a national Architectural & Engineering firm with offices in Grand Rapids and Traverse City, MI. During their nearly 50 years in operation, they have made a name for themselves as a go-to full-service firm in various commercial and governmental markets. They are active members of their own community, as well as licensed to practice in nearly all 50 states. Made up of architects as well as civil and MEP engineers all working together under one roof, they are truly able to develop the spaces that build communities. For more information, please call 616.785.5656 or visit http://www.paradigmae.com.
About Brunswick Bowling Products
The leader in the bowling industry for over 125 years, Brunswick Bowling provides products, services and industry expertise for the development and renovation of new and existing bowling centers and mixed-use facilities across the entertainment industry. Brunswick is the only full-line supplier of bowling center equipment, supplies and consumer bowling products. For more information, visit http://www.brunswickbowling.com.
Rachael Farr, Communications Coordinator
(601) 506-1753, rheadley(at)robinsmorton(dot)com