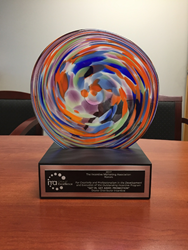 "These Circle of Excellence winners have shown a panel of industry leaders that they have the expertise to help businesses meet and exceed their business goals." Mike Landry
MINNEAPOLIS (PRWEB) August 09, 2017
Five IMA member companies and their incentive partners were honored with seven Incentive Marketing Association (IMA) Circle of Excellence Awards at the recent IMA Summit.
The IMA Circle of Excellence Awards identify and recognize outstanding examples of successful sales, loyalty and employee engagement programs designed to help improve business. Both the company and the incentive marketing partner are recognized. The 2017 winners each received new one-of-a-kind rewards.
"Businesses today are looking for every advantage, whether it's creating a highly engaged workforce, improving customer loyalty or increasing sales. These Circle of Excellence winners have shown a panel of industry leaders that they have the expertise to help businesses meet and exceed their business goals," said Mike Landry, IP, Circle of Excellence chair and vice president, special markets, Tumi.
"When you look at the results, it quickly becomes clear there is no 'one size fits all' approach to rewards and recognition. It's about acknowledging and appreciating people in ways that inspire higher performance," Landry explained.
Power2Motivate with PFU (EMEA) - Consumer Offer/Branding Program/Customer Loyalty Award and
Sales Incentive Award
PFU, a Fujitsu company, redefined its approach to rewarding channel partners across the EMEA region, particularly resellers. Previous programs used reactive rewards, were not country or reseller-specific, relied primarily on cash and rebates, and were difficult to communicate. With the help of Power2Motivate, PFU set out to foster reseller loyalty, build mindshare, increase sales, and engage 60 percent of resellers in its new Imaging Rewards Program which offers locally sourced, culturally relevant rewards. PFU met their engagement goals and saw a 39 percent increase in sales.
HMI Performance Incentives with Eaton – Dealer/Distributor Incentive Award (tie)
Eaton's core products are sold through a network of manufacturer representative companies and electrical distribution partners. To increase sales, Eaton partnered with HMI Performance Incentives to develop a short-term promotion "Get In. Get Away." Participants were rewarded on their performance over the program earning period. Inside sales/counter people were awarded an electronic spin-to-win code to claim their rewards on the website portal every two weeks. Representatives benefitted by receiving the same prizes won by each person they enrolled throughout the campaign. The program exceeded expectations with 97 percent of participants saying they found Eaton products very valuable and 87 percent found the program rewarding.
Incentive Solutions with Ferguson, A Wolseley Company - Dealer Distributor Incentive Award (tie)
For 2016, Ferguson worked with Incentive Solutions to refresh its Ferguson PRO Plus™ long-term loyalty program for its professional trade contractors. The program encourages online ordering for smaller customers which reduces service costs and increases self-sufficiency, while freeing up the sales team to focus on larger customers. All products on Ferguson Online qualify for points redeemable for a wide array of merchandise, event tickets, trip rewards and more. Points can also be donated to select charitable organizations. Ferguson met its goals with 77% participating and increases across all metrics.
Solterbec with Optus - Employee Incentive Program Award
Optus took the idea of a "rewarding experience" for employees to a whole new place. With the help of Solterbec, Optus reinvented its Pacesetters Employee Incentive & Rewards Program to create an emotional connection with employees through working together on community service projects. With over 9,000 employees throughout Australia, Optus used destination meetings around the world to provide travel experiences for its top performers. However, it was the community service projects that employees found most rewarding. The projects involve work such as building homes in a small community and hearing personally from the families they were helping. The emotional connection was highly successful with more than twice as many employees qualifying for the 2016 program and 90 percent of the Pacesetters rating the program as excellent or very good.
Solterbec with Westpac - Employee Recognition Award
With 40,000 employees and contractors and five employee recognition programs, refreshing and making it possible to recognize across programs was a big task. Westpac, with Solterbec's help, set out to achieve five new goals with their program revamp: to be able to recognize anyone, anywhere, allow non-recognition-program members to participate, create a concierge reward service, use Westpac gift cards and provide new communication mediums. Careful planning and a detailed SWOT analysis of each of the five recognition programs identified opportunities to create a company-wide framework for recognition and engagement while retaining the unique brand of each program. Technology played a major role in providing the ability to recognize across programs. All five goals were met for 2016.
Lyoness Management Americas - Social Responsibility Award
Lyoness Management Americas embeds social and environmental responsibility into all aspects of its work. Employees and customers alike are invited to get involved in its Child & Family Foundation (C&FF). Fees from merchants using the loyalty program along with a percentage of every purchase made at participating merchants automatically goes to support C&FF education and aid projects around the world. Lyoness' environmental responsibility starts with its office, which is a LEED Certified building and with company leaders, including the CEO, biking or walking to work daily. Green practices, are encouraged through company training and employees are invited to get involved in activities such as the annual world clean up day or shutting down computers and printers after work hours and on weekends to reduce energy use.
Judges and Sponsors
Special thanks to the IMA Circle of Excellence judges and sponsors who give of their time and support to make it possible to recognize and honor the great work of IMA members.

Judges - Paul Hennessy, publisher, Premium Incentive Products Magazine; Leo Jakobson, executive editor, Incentive Magazine; Rich Killian, CPIM, president, RK Incentives; Cindy Mielke, director, marketing and sales operations, GC Incentives; Mike Murrell, president/publisher, Sales & Marketing Management Magazine; Rex Remigi, global awards director, O.C. Tanner; and Melissa Van Dyke, president, Incentive Research Foundation.
Sponsors - Incentive Concepts, Peludica and Xuma.
New 2017 Award
Personalization and customization are important elements of successful reward and recognition programs. This year's new Circle of Excellence Awards, created and provided by Pelucida Glass, truly represent the IMA and customization. Each hand-blown glass award contains a unique, one-of-a-kind mix of all the colors of the IMA brand.
About the Incentive Marketing Association
The Incentive Marketing Association (IMA) connects members from leading companies across the marketplace to create a unified voice and growth for the incentive industry. IMA is the umbrella organization for the Incentive & Engagement Solution Providers (IESP), Incentive Gift Card Council (IGCC), Incentive Manufacturers & Representatives Alliance (IMRA), Incentive Travel Council (ITC), IMA Europe, and IMA Canada. IMA members have the expertise, leading brands and services to help companies improve their business with recognition, reward and engagement programs.