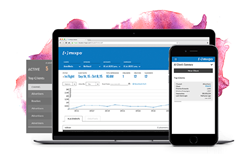 This is the most significant platform upgrade that Mixpo has made since the founding of the company in 2007.
Seattle, WA (PRWEB) August 09, 2017
Mixpo, a Seattle-based creative management platform that enables publishers and advertisers to easily build, manage and measure compelling video and rich media ad campaigns, has today announced the launch of a major update to their platform.
Mixpo's updates are focused on the platform's end-to-end workflow management tools, including an entirely new design and improved user experience, streamlined workflows for designers and ad ops teams, and dozens of upgrades to functionality that will enhance their customers' ability to deliver high-quality, well-informed digital campaigns at scale.
"This is the most significant platform upgrade that Mixpo has made since the founding of the company in 2007," said Adam Noble, Mixpo's Vice President of Marketing. "Our customers will find the new Mixpo UI to be intuitive to use, making it simple to manage, deploy and measure their most important campaigns."
By focusing on campaign management workflow, Mixpo is catering to the distinct needs of both ad producers and campaign managers. New individual logins and user-based permissions allow designers, ad ops teams, and analysts to operate more efficiently on independent tracks, meaning traffickers, designers, and analysts can focus on their respective roles without becoming caught in overlapping workflows to execute a campaign.
According to Mixpo's Vice President of Engineering, Arian Gibson, the Mixpo platform provides streamlined navigation and a more intuitive workflow.
"Our new platform allows marketers to better organize their campaigns, and scale a single creative across networks and publishers without having to clone multiple versions for each placement," said Gibson. "These advancements minimize creative edits and significantly decrease the time required to launch campaigns. And if these updates aren't enough, we've also created a more powerful reporting dashboard and made significant updates to the Mixpo Creative Studio that makes creative production more efficient than ever."
Mixpo's new platform is a key advancement of the company's larger strategic focus on simplifying and streamlining the creative workflow of digital advertising.
"The industry is shifting away from complicated ad features and functionality, and toward simplified workflow management," said Mixpo CEO, Charlie Tillinghast. "Our latest platform update is a significant upgrade because it provides our customers with all of the same great video and interactive advertising capabilities for which they have come to know and love Mixpo, while significantly improving their ability to build, manage, and optimize their digital ad campaigns across an increasingly complex environment of inventory sources."
About Mixpo
Mixpo is the leading creative management platform for digital advertisers and publishers.  The company's state-of-the-art studio gives brands and resellers the tools to easily produce compelling video and rich media ads, and a simple interface from which to manage, measure and optimize campaigns in real time, at scale. Mixpo combines their technology with best-in-class customer service to support sales, creative services, and ad ops teams. Learn more by visiting http://www.mixpo.com.