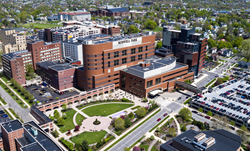 This year's rankings are based on as broad a picture of the care U.S. centers provide as U.S. News has ever evaluated, and you get to see the components that add up to the best care in the country.
Buffalo, NY (PRWEB) August 08, 2017
Roswell Park Cancer Institute has been named a 2017–18 Best Hospital for cancer by U.S. News & World Report. The Buffalo, N.Y., comprehensive cancer center was ranked by the news outlet as 33rd among nearly 900 cancer hospitals reviewed nationwide, and was also recognized as high-performing within two other categories: urology and lung cancer surgery.
The annual Best Hospitals rankings, now in their 28th year, are designed to help patients make informed decisions. Roswell Park is the only facility in Western and Central New York State to be included on the Best Hospitals–Cancer list for 2017–18. Only 152 hospitals, or 3% of the more than 4,500 centers evaluated nationwide, were ranked in even one of the 16 main specialties this year.
"This acknowledgment is a window into the quality of the cancer care we provide, and reflects the specialized expertise of every single Roswell Park team member," says Roswell Park President and CEO Candace S. Johnson, PhD. "Cancer patients today have more options to choose from than ever before and more data to guide and inform their decisions, so it's especially rewarding when a trusted source says we stand out from the crowd because of the quality and impact of our care."
"For nearly three decades, we've strived to make hospital quality more transparent to healthcare consumers nationwide," notes Ben Harder, Managing Editor and Chief of Health Analysis at U.S. News. "By providing the most comprehensive data available, we hope to give patients the information they need to find the best care across a range of specialties."
To compile this year's rankings, U.S. News reviewed several sources of data on U.S. hospitals, including the American Hospital Association's Annual Survey Database and information from the National Cancer Institute (NCI), Foundation for the Accreditation of Cellular Therapy (FACT) and the Centers for Medicare & Medicaid Services (CMS). The methodology for this year's list incorporates such indicators as risk-adjusted survival and readmission rates, volume, patient experience, patient safety and quality of nursing care, as well as each center's reputation and available medical technologies.
"When you look at this list as a whole, you can appreciate the value and impact of the comprehensive approach to managing cancer," says Stephen Edge, MD, FACS, FASCO, Vice President of Healthcare Outcomes and Policy at Roswell Park and nationally renowned cancer care quality expert brought back to the Institute to lead quality performance in the care we deliver to our patients. "This year's rankings are based on as broad a picture of the care U.S. centers provide as U.S. News has ever evaluated, and you get to see the components that add up to the best care in the country. Specifically, this year's rankings have been adjusted to account for factors including the higher risk patients treated at centers like Roswell Park. You have to excel in a lot of different areas in order to be nationally ranked."
Roswell Park compiles and publishes many details about the quality of its care, sharing metrics such as patient satisfaction scores and clinical outcomes data for all cancer types on its website. The Institute has been honored by many organizations for the quality of its care. In addition to its status as a U.S. News Best Hospital for cancer, Roswell Park has been recognized as a BlueCross BlueShield Association Blue Distinction Center in the areas of Transplants and Complex & Rare Cancers, and received Guardian of Excellence Awards for patient satisfaction from Press Ganey Associates in both 2015 and 2016. For more information, go to roswellpark.org/quality/designations.
See the full 2017–18 Best Hospitals rankings at health.usnews.com/best-hospitals.
For an online version of this release, please visit: https://www.roswellpark.org/media/news/roswell-park-named-us-news-best-hospital-cancer
The mission of Roswell Park Cancer Institute (RPCI) is to understand, prevent and cure cancer. Founded in 1898, RPCI is one of the first cancer centers in the country to be named a National Cancer Institute-designated comprehensive cancer center and remains the only facility with this designation in Upstate New York. The Institute is a member of the prestigious National Comprehensive Cancer Network, an alliance of the nation's leading cancer centers; maintains affiliate sites; and is a partner in national and international collaborative programs. For more information, visit http://www.roswellpark.org, call 1-877-ASK-RPCI (1-877-275-7724) or email askrpci(at)roswellpark(dot)org. Follow Roswell Park on Facebook and Twitter.