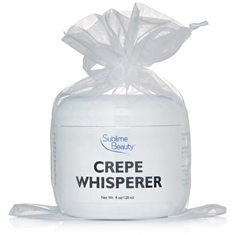 Everyone eventually gets annoying crepey skin. This new cream takes it on and brings the condition under control. Available on Amazon and Sublime Beauty now.
St. Petersburg, FL (PRWEB) August 08, 2017
Today, the new Crepe Whisperer cream debuts at Sublime Beauty and on Amazon. It help fix the annoying and common problem of aging crepey skin.
"I developed and added this cream to our inventory because so many women find they fight crepey skin," says Kathy Heshelow, founder of Sublime Beauty. "I noticed I was getting this above my knees and wanted a product to take care of it right away!"
It's common to see crepey skin on the neck, decollete, upper arms and legs. It is defined as thinning skin that becomes wrinkled up like crepe paper.
The new product joins the popular Face Whisperer® line and Cellulite Whisperer organic products at Sublime Beauty®.
The new cream comes in a generous sealed 4 ounce jar and includes such ingredients as organic shea butter, fruit extracts, aloe, olive oil and hyaluronic acid. Each ingredient helps in the repair of skin. Use twice daily, massage in and let absorb well.
"We recommend that you skin brush before use, as this is nice exfoliation and improves blood circulation and skin tone. It will help the cream to absorb better," says Heshelow.. The Sublime Beauty skin brush is available on Amazon with a how-to guide.
ABOUT: Sublime Beauty is a French-inspired skincare company that focuses on products to Age Well. Ingredients help to boost collagen, hydrate, relax wrinkles and improve skin. A niche includes healthy Skin Brushes. The company webstore offers free standard shipping and a VIP Club. Sign up for Secret Sales on the site. Products also available on Amazon.