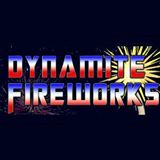 Hammond, Indiana (PRWEB) August 22, 2017
Although Labor Day is not as popular for fireworks as New Year's Eve or the Fourth of July, many communities have begun providing weekend displays, and numerous households celebrate the unofficial end of summer with backyard fireworks shows. While fireworks are exciting for most humans, they can be downright terrifying for pets.
Kris Zambo, owner of Dynamite Fireworks in Hammond, Indiana, provides 5 tips for caring for pets during a fireworks display.
1. Safe Space
A small, tight, dark space helps an animal feel like it has more control over its environment. A soft shelter in a small closet or even a bathtub gives pets a safe space to retreat. Pet owners should let their pets go rather than attempting to draw them out of hiding.
2. Boundaries
Frightened animals tend to become escape artists, so it is crucial to make sure they have set boundaries. Doors and windows should be locked if pets are indoors, and those who venture outside should be kept on a short leash. Despite these precautions, though, pets occasionally manage to escape. Proper preparation in the form of microchipping and tags can help wayward pets find their way home.
3. Human Company
A trusted human can help ease pets' fears. Pet owners should try to arrange to have someone the pet knows stay home with her. A kennel or paid pet sitter is another possibility, but the unfamiliar circumstances could raise the animal's stress levels.
4. Acting Normal
Allowing a pet to get away with unruly behavior or becoming overprotective reinforces the pet's belief that there is a reason to be afraid. Staying calm and relaxed, or passing this duty to a more unflappable loved one, lets the animal know that there is nothing to fear.
5. Swaddling
Some pets find comfort in a secure but comfortable wrap. A blanket or a commercial product known as a Thundershirt can provide safe, non-constrictive swaddling. Pet owners should always check with their vet first, as some health conditions preclude swaddling, and it is vital to use proper techniques for safety.
About Dynamite Fireworks
Less than 1 mile from the Indiana-Illinois state line, Dynamite Fireworks is the closest fireworks store to Chicago, and is open year-round. Visit Dynamite Fireworks at 4218 Calumet Ave, Hammond, IN. Call (219) 937-4090 for more information, or go to https://dynamitefireworks.com/.