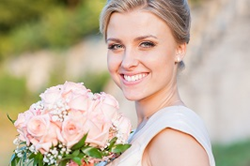 Plymouth, MA (PRWEB) August 15, 2017
Samoset Family Dental in Plymouth, Massachusetts is thrilled to announce its new Wedding Smile Packages to help brides, grooms, and other wedding participants look their best for upcoming weddings.
According to Dr. Jiangyun Sheng, the leading dentist at Samoset Family Dental, "Before a wedding, many people grow anxious about how their teeth will look in photos. With our new Wedding Smile Packages, we can help them have the beautiful smile they want, whether they simply need a thorough cleaning or more extensive dental work."
The Basic Build Package includes a consultation, teeth cleaning, Deluxe Diamond Hygiene Polish, complimentary x-rays, and a custom whitening kit with custom trays that patients take home. For most patients, these services can make a dramatic difference in the aesthetic look of their teeth. Teeth whitening is currently among the most commonly requested cosmetic dental service for brides and their wedding parties who don't want dull or yellowed looking teeth in their wedding photos.
Samoset Family Dental offers additional services for patients who are looking for a of higher level of cosmetic dentistry. These services include tooth contouring, porcelain veneers, gum line contouring, and dental implants. White bonding enables an experienced dentist to use natural color-matched bonding material to replace silver fillings and other discolorations. Full smile makeovers are available to ensure that people feel and look their best before an upcoming wedding.
As Dr. Sheng explains, "The new wedding packages allow us to bundle up several of our most popular services for brides at a superior rate we can offer to the whole wedding party. Sometimes brides don't know what they want or what procedures will make a difference. The Basic Build Package offers a great starting point."
Dr. Sheng is an affiliate with the American Academy of Cosmetic Dentistry. She has over 15 years of experience and is known for offering pain-free dental procedures to her patients. In addition to serving as a clinical assistant professor at the Boston University School of Dental Medicine, she has won various dental industry awards, including the prestigious Dr. Remo Sinibaldi Award from the Boston University Goldman School of Dental Medicine.
About Samoset Family Dental
Samoset Family Dental is a leading provider of dentistry services in the Plymouth area. Led by Dr. Jiangyun Sheng, Samoset Family Dental (http://www.samosetfamilydental.com/) provides customized cosmetic dentistry and teeth whitening services to a wide range of patients. To learn more or to schedule a consultation, call (508) 746-4456 or stop by the office at 159 Samoset Street, #5, Plymouth, MA 02360.