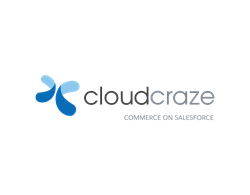 Chicago (PRWEB) August 08, 2017
CloudCraze, a B2B commerce solution built natively on Salesforce, has added two Principal Architects to its professional services roster to strengthen its consumer packaged goods (CPG) and engineering expertise. The pair's impressive technology backgrounds will drive the development of market-leading commerce capabilities on Salesforce that meet the complex needs of the B2B buyer.
Doug Nichols brings 16 years of experience working across business technology consulting, digital product management and corporate retail technology to his new role at CloudCraze. Previously, Nichols served as VP of Business Solutions and Architecture for Tommy Bahama, where he led the development, technical design and implementation of enterprise applications across major business functions.
As the digital demands of B2B buyers continue to merge with their B2C counterparts, Nichols' retail expertise will be a critical factor in engineering solutions that satisfy those needs.
Hergert will leverage his 20 years of experience in information systems design and development, including six years at SAP Hybris, to lead technical innovation. Previously a Product and Innovation Domain Architect at SAP Hybris, Greg Hergert is a critical addition to the engineering team at CloudCraze. His experience driving the technology strategy, vision and blueprints for Hybris as a Service (YaaS) will be a major asset as CloudCraze continues to expand its native Salesforce architecture.
"Doug and Greg are essential pieces of the puzzle to round out the skillsets of our talented engineering team," said Chris Dalton, CEO of CloudCraze. "As we continue to build on our momentum in the second half of 2017, we're excited to capitalize on their extensive industry knowledge in CPG and software to drive CloudCraze's growth."
To learn more about CloudCraze's continued expansion plans, visit http://www.cloudcraze.com.
About CloudCraze
CloudCraze delivers robust B2B commerce native on Salesforce. It allows businesses to generate online revenue fast and easily scale for growth. Its Customer-First Commerce model puts the customer at the core, informing every interaction with data across commerce, sales, marketing, service and more. With the trusted Salesforce infrastructure and core capabilities, CloudCraze provides infinite flexibility to extend functionality, add products and channels, and conduct billions of dollars in transactions anywhere. CloudCraze powers Customer-First Commerce for industry leaders such as AB InBev, Coca-Cola, Ecolab, GE, Hallmark, Kaplan, Kellogg's, Land O' Lakes, L'Oreal, Symantec, Tyco.
CloudCraze is funded by Insight Venture Partners and Salesforce Ventures.
CloudCraze is recognized in The Forrester Wave™: B2B Commerce Suites, Q1 2017 and as a Visionary in the Gartner Magic Quadrant for Digital Commerce 2017. CloudCraze is a Salesforce Platinum ISV Partner.