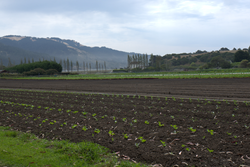 "The excitement connected with this purchase is matched only by the multitude of opportunities we envision for students, faculty, and the local community in the years to come," said USF President Paul J. Fitzgerald, S.J.
SAN FRANCISCO (PRWEB) August 08, 2017
The University of San Francisco (USF) has purchased Star Route Farms, the oldest continuously operating certified organic farm in the state of California. Located in the West Marin community of Bolinas, the 100-acre property is a working farm which has, since the early 1970s, provided organic produce to top Bay Area chefs and restaurants and directly to the community via farmers markets.
"The excitement connected with this purchase is matched only by the multitude of opportunities we envision for students, faculty, and the local community in the years to come," said USF's president, Paul J. Fitzgerald, S.J., in making the announcement. "We are grateful to Star Route Farms founder Warren Weber and his wife Amy for entrusting this resource to the university and enabling us to enhance USF's commitment to environmental and social justice."
"Amy and I are very pleased and honored that the University of San Francisco will continue the Star Route Farms legacy," said Weber, who has owned and operated the farm since 1974. "We hope young people, entry-level farmers and farmers around the world who struggle with conventional agriculture will learn from the passion and expertise that USF offers this enterprise."
Farming operations will continue uninterrupted with the property's current employees. The university will ultimately develop plans to introduce community partnerships and academic opportunities—ranging from cross-disciplinary research and sustainable agriculture to field learning, community education, and programs focused on nutrition, biodiversity, sea level rise education and more.
"Star Route Farms offers exceptional and diverse resources, and will enhance our teaching, research and service curricula in ways that are consistent with our mission, vision and values," said Donald E. Heller, USF provost and vice president of academic affairs.
Heller added: "We are excited to partner with our deans and faculty during the academic year ahead. Given the location in West Marin and the property itself, there are numerous educational and other programmatic opportunities that we will carefully study and implement in an intentional way. We are committed to preserving the integrity of Star Route Farms, and to operations that respect neighbors and the surrounding community."
ABOUT THE UNIVERSITY OF SAN FRANCISCO:
Founded in 1855, USF is San Francisco's first and oldest university. Today, USF enrolls nearly 11,000 undergraduate, graduate, and continuing education students across five colleges and schools. Its Jesuit Catholic mission helps ignite a student's passion for creating a more just and humane world, while encouraging the pursuit of academic excellence. More than 100 undergraduate and graduate degree programs are offered through USF's College of Arts and Sciences, School of Management, School of Law, School of Education, and School of Nursing and Health Professions. USF also offers instructional programs through its 21 interdisciplinary institutes and centers. USF's diverse student body from across the country and around the world enjoys direct access to faculty, small classes, and outstanding opportunities in the city itself. For more information, please visit usfca.edu.
ABOUT STAR ROUTE FARMS:
Star Route Farms, a bio-diverse 100-acre site in Bolinas, has been an organic farm in Marin County since 1974. It began on five acres using horse-drawn sulky plows and cultivators. As pioneers in the then-fledgling organic industry the farm adopted production and post-harvest technologies—such as precision planters and hydrocooling equipment—in order to ensure top quality produce for the consumer. Star Route Farms is the oldest continuously certified organic grower in California. The farm is presently certified by Marin Organic Certified Agriculture (MOCA). For more information, please visit starroutefarms.com
WHAT PEOPLE ARE SAYING ABOUT USF'S PURCHASE OF STAR ROUTE FARMS:
"This is a wonderful move by University of San Francisco. We believe in connecting students with where their food comes from and how it is grown, and there is no better way to do that than getting your hands dirty on a farm. Joining a diverse urban campus with a beautiful working farm in Marin will give USF students a unique only-in-the-Bay-Area educational experience."
— Fedele Bauccio, CEO of food service pioneer Bon Appétit Management Company
"Warren Weber and Star Route Farms have been a very important part of the farming and food community for many decades, and I have had the pleasure of buying their pristine produce for much of that time. The preservation and continuation of this visionary farm will play an important role in educating new generations."
— Traci Des Jardins, chef-owner of Jardiniere and Bon Appétit's partner at The Commissary, Arguello and Public House restaurants
"I am relieved and excited to know that USF will steward Star Route Farms from now on. It's a legendary farm, a role model that has seen organic advocates and dignitaries from the US and dozen of other countries. The New York Times has called Marin County the 'epicenter of the organic movement' for the area's forward-thinking approach to sustainable, community-based agriculture. Warren Weber has been a leader in the organic movement for more than 40 years, and now this leadership continues with the University of San Francisco. It is a wonderful and perfect match, and the organic agriculture movement will be better for it."
—Helge Hellberg, CEO, Organic Media Network, and former executive director of Marin Organic.
"It is amazing that the University of San Francisco purchased Star Route Farms, the oldest continuously operating certified farm in California! They have committed themselves to continuing the operation intact and are launching an interactive educational program that can be a model for the rest of the country. School-supported agriculture is an idea whose time has come!"
— Alice Waters, chef, author, food activist, and founder and owner of Chez Panisse Restaurant in Berkeley, California, who has been a champion of local sustainable agriculture for more than four decades.
"We are very pleased and honored that the University of San Francisco will continue the Star Route Farms legacy. We hope young people, entry-level farmers and farmers around the world who struggle with conventional agriculture will learn from the passion and expertise that USF offers this enterprise."
—Warren Weber, founder, Star Route Farms