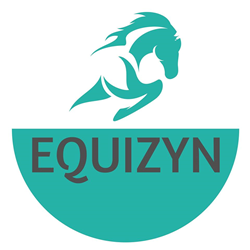 The experience I've had using Equizyn on High Kingdom has been fantastic. Zara Tindall MBE
(PRWEB UK) 10 August 2017
Equitein is proud to announce the launch of a new, nutritional horse supplement, EQUIZYN, which supports the natural recovery of your horse allowing for an edge over your competition.
No product is currently available to equestrians designed with the same formulation of cutting-edge ingredients for the health, competition and recovery of your athletic equine.
EQUIZYN is the supplement choice of elite equestrians across a wide spectrum of the industry, such as Zara Tindall MBE and Michael Scudamore Junior of Michael Scudamore Racing. Olympic Silver medallist and previous World and European Champion, Tindall, talked about the product following her third place with High Kingdom at the Rolex Kentucky 4-star event:
"The experience I've had using Equizyn on High Kingdom has been fantastic. Not only did we notice a difference in his recovery following cross country, but even the vet commented on his performance under tough conditions with his body temperature and heart rate back to normal very quickly," explained Tindall.
Michael Scudamore added "I noticed a huge difference using Equizyn. Where the recovery time would normally take six or seven days (or even longer), using Equizyn it took three or four days to recover after races and in some cases even shorter, which is a definite improvement on last year. I will continue to use the product to improve the performance of my horses".
"We pride ourselves on being a company that you can depend on and, most importantly, trust to deliver a total solution for optimum health and fitness," said Jim Gaskell, Head of Manufacturing, Research & Design at Equitein.
"The unique blend of ingredients separates us from all other horse supplements on the market. Equizyn is specifically developed for healthy joints, injury prevention and rapid recovery," he added.
Equizyn is on special offer for £47.00 for 90 tablets and is available for pre-order via the website.
Notes to Editor:
1. For more information about EQUIZYN please visit: http://www.equizyn.com
2. Equitein has launched a revolutionary crowdfunding campaign to inspire people to make the world a better place for horses. The campaign is not only about supporting the launch of a natural horse supplement, but providing care for horses who have suffered from cruelty or neglect and are in desperate need of professional treatment. Equitein are giving 25% of all proceeds raised to the World Horse Welfare Charity.
Equitein need help in promoting their all-natural horse supplement. Your donation will help spread the word of EQUIZYN to the wider equine market, as well as support the progression of the World Horse Welfare Charity. To find out how your support will enhance the lives of horses across the world, please visit the crowdfunding page