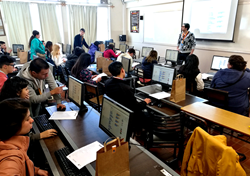 The students brought a lot of enthusiasm and energy to the event, and we hope that for many of them this was the start of their journey with technology
Mendoza, Argentina (PRWEB) August 08, 2017
Belatrix Software, a leading software development company, invited youngsters to get their first taste of computer science and programming at its annual Tech Day event. It was held in Mendoza, Argentina.
Belatrix used the Scratch visual programming language, which was developed by the MIT media lab. Scratch is specifically designed to help young people get started with programming, and enables students to easily create interactive stories and animations. It helps students develop skills in critical thinking and problem solving. Developers and quality assurance (QA) experts from Belatrix guided the students through the learning experience.
Belatrix worked together with the Fonbec scholarship program and the National Technology University in putting together the event. The students who participated in the event were Fonbec beneficiaries, which is a program that helps students during their high school studies. It aims to demonstrate to young people the potential of technology-focused careers, helping both young people interested in the topic, as well as those coming from disadvantaged backgrounds.
In addition to providing a hands-on experience with coding, two students who had received Fonbec scholarships and are finishing their university studies, gave talks about what it is like to study computer science.
Belatrix's collaboration with Fonbec started several years ago. In 2013, the Belatrix community suffered the loss of one of its most beloved colleagues. In his honor and in collaboration with Fonbec, the company created and launched a program that helps low-income promising engineers attend school and access training opportunities.
The event was held at an exciting time for the Argentine IT industry. A key priority of the Argentine government is to significantly increase the number of programmers in the country, as it recognizes the strategic importance of technology to the country's future. The Ministry of Education has formalized computer programming throughout schools in the country. Meanwhile, last year the government put in place what is known as "Plan 111.Mil" – the plan to create 111,000 new tech jobs in the next four years.
Jose Gramaglia, Belatrix's Vice President of Innovation, who coordinated the event, commented that "it was a tremendous success. The students brought a lot of enthusiasm and energy to the event, and we hope that for many of them this was the start of their journey with technology".
About Belatrix Software:
Belatrix Software helps companies thrive in the digital world. Organizations partner with Belatrix to turn ideas into high quality, innovative software based on highly-tuned Agile development processes. Customers use Belatrix's digital transformation services to create best-in-class software products, lower time to market, and gain competitive edge. Belatrix's dedicated labs, focusing on UX, continuous delivery, mobile, DevOps, and QA automation, help organizations become digital leaders.
Belatrix's clients include both established Fortune level and emerging, venture backed firms. Some of the firm's clients include Disney, Adobe, AOL, PwC, Fluor, and Shutterfly. Belatrix is a South American company with offices in Florida, New York, San Francisco, Mendoza, Buenos Aires, Bogotá and Lima. For more information, visit http://www.belatrixsf.com.