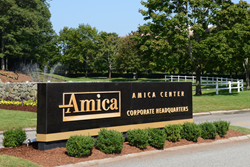 LINCOLN, R.I. (PRWEB) August 08, 2017
Amica Insurance once again received "Highest in Customer Satisfaction Among Auto Insurers in the New England Region" in the J.D. Power 2017 U.S. Auto Insurance StudySM. This marks the fifth consecutive year in New England and the 18th year in a row that J.D. Power recognized Amica for customer satisfaction with auto insurers.
Amica's score of 875 (on a 1,000-point scale) was 64 points higher than the regional average, and the highest score of any other region.
"We're so proud to once again receive this honor from J.D. Power," said Robert A. DiMuccio, chairman, president and CEO of Amica. "All of our employees – whether they're on the front lines or in a support role – have played a part in this recognition. I also want to thank our customers, who recognize the value of service and responded so positively."
The study measured customer satisfaction across five areas: interaction, policy offerings, price, billing process and policy information (formerly billing and payment), and claims. To learn more about the study, click here.
(Amica received the highest numerical score among 16 providers in the New England Region in the J.D. Power 2017 U.S. Auto Insurance Study, based on 45,624 total responses, measuring the experiences and perceptions of customers with their auto insurer, surveyed February-April 2017. Your experiences may vary. Visit jdpower.com.)
About Amica Insurance
Amica Mutual Insurance Co., the nation's oldest mutual insurer of automobiles, was founded in 1907. The company, based in Lincoln, Rhode Island, is a national writer of auto, home, marine and umbrella insurance. Life coverage is available through Amica Life Insurance Company, a wholly owned subsidiary. Amica employs more than 3,800 people in 44 offices across the country. For more information, visit Amica.com.
Media inquiries can be sent to MediaCenter(at)amica(dot)com.
Twitter: Amica
Facebook: Amica Mutual Insurance Co.