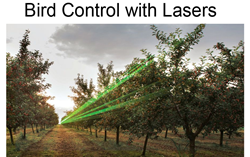 (PRWEB) August 08, 2017
GrowingProduce.com, the aggregate site of American/Western Fruit Grower, Florida Grower, and American Vegetable Grower magazines, has featured Bird-X products along with Sales Manager Josh Pierce's advice in an article written by Jackie Pucci earlier this month. GrowingProduce.com is an online resource for the latest in fruit, vegetable, and citrus industry news. The issue being addressed is bird control in orchards, and how to humanely and effectively keep birds away from such inviting food sources for good.
Pierce discusses the results that are possible when using a synergy of products, like outdoor laser technology paired with sonic deterrent devices that emit predator calls and distress cries, stating that "mixing a laser or multiple lasers with sound — especially if you have a lot of acreage — is really what's going to bring growers more success than just trying a piecemeal solution. Any time you're giving a problem animal all the food they can desire, [removing them] becomes one of the most challenging things you can do."
The article goes into detail about how outdoor agricultural bird control solutions differ from indoor or more traditional problems, and why it's more difficult to deter pest birds once they've had a taste of the food at the source. Electronic bird deterrent devices are becoming more and more prevalent in the agricultural industry, due to them having no effects on the crops whatsoever, versus harmful chemical deterrent sprays.
Visit GrowingProduce.com to read Senior Writer Jackie Pucci's full article and interview with Josh Pierce.
Bird-X, Inc. has spent over 50 years protecting public areas from over 60 bird-spread transmissible diseases. The leading international brand of humane bird control solutions, this Chicago-based company manufactures a complete line of unique bird control products, protecting the health of humans, wildlife, and the environment by deterring birds from unwanted areas without harming them.
For information on any of Bird-X's humane pest control products, please call customer service at (800) 662-5021.